Today I spoke with The Watcher, front man for English Atmospheric Black Metal band Fen. We spoke about coming from the marshlands of Eastern England, the loyalty of metal fans and touring with Taake
"There is a unique, understated bleakness to the fens – it's an area few visitors to the UK travel to"
* You got your band name from the Marshlands in Eastern England correct? Do you think stylistically you would sound the same say coming from the West Country, London or Newcastle?
It is hard to say – given that we all currently live in London and some of us have moved around a fair bit in the last ten years, it is likely that the surface-level core of the band would still sonically sound more or less the same. Nevertheless, the essence of the band is derived from both myself and Grungyn growing up in the fens of Eastern England and in this, I believe this has a profound effect on the music just beyond the 'sound'. The whole basis of Fen is to channel this ambience through our music and concepts – with that in mind, whilst it is still likely that we would be playing an atmospheric form of black metal, the fundament of the material would likely be different.
The source of our inspiration and the basis of our driving motivation is absolutely key to the ambiences we are attempting to invoke and so in that, I think there would be a palpable difference to our music if we were to have grown up in another part of the country. There is a unique, understated bleakness to the fens – it's an area few visitors to the UK travel to, it does not boast rolling 'English' greenery, moorland, hills or lush forests and is therefore, very much an area untraveled by most apart from those who live and work there. It has a distinctive, spacious emptiness, fields of dark soils that speak of ennui and woe, hints of mysteries dwelling within the dark corners that loiter under the endless grey skies.
This in turn is the atmosphere we attempt to channel through the music of Fen and therefore, whilst stylistically we would very likely still be playing atmospheric black metal regardless of where we originated, I think it would lack the distinctive mournful bleakness it currently carries.
* Since the band started as a studio project are any of you in other bands?
Yes, we do have other a number of other projects we are involved in – when creativity is your absolute number one driving reason to exist, it is hard to sit still and twiddle one's thumbs when there is music to be made. With that in mind, all three of us are engaged in musical outlets other than Fen.
For myself, I play in a more orthodox, 'traditional'  black metal band called Virophage with Havenless – the focus of this is on invoking a darker, more nihilistic and aggressive atmosphere. I also have been playing guitar in the doom metal band Pantheist for a couple of years and we are hoping to complete the writing/recording of the fifth Pantheist album this year.
I am also about to release the debut album of my Fellwarden project which is predominantly a solo release that Havenless also provides drums for – this is an album rooted in soaring, melodic, grandiose black metal taking influences from various epic/heroic black metal music also. Grungyn meanwhile is in the process of completing the debut album with his folk act 'Driftway' – stylistically, it is grounded in English folk with a more melancholic ambience and features of the vocal talents of the first Fen keyboard player Draugluin. So we are all very busy!"
* Are there plans for live shows this year?
Plenty. Being able to deliver this material in the live environment is absolutely key to us. All three of us put our absolute maximum into every gig we play – it is the most direct and honest form of communication we can participate in to involve our listeners in our music. Gigs can be pretty lacking in atmosphere sometimes – sterile or sub-standard venues, poor sound, drunken oafs spoiling it for people – however our goal is always to transcend this and do our utmost to being the audience into our journey, to deliver the atmosphere of the fens to each show regardless of the circumstances.
As for plans for shows this year, we have a support slot with Primordial at the end of March and then are touring the UK with Taake in April which should be good. We are also heading to Norway for the Nordvis Hostfest in September which will be an excellent event run by our good friends at Nordvis.
"There's a loyalty to artists that is palpable within extreme metal"
* How well do your vinyl and cds sell? Are you surprised that people still by physical product?
Erm… I guess they sell OK. I'm not really sure what is considered to be 'good' sales in this day and age I'm afraid! I'm always pleased when people opt to buy a physical release of our music, though I suspect we're nowhere NEAR the sales of bands like Amon Amarth or Behemoth. What I will say is that I am not massively surprised that people still buy physical releases – and indeed, that vinyl sales are increasing – certainly within the metal scene. There's a loyalty to artists that is palpable within extreme metal and I think it is becoming increasingly well-known that endless streaming sites and illegal downloads are harming the very bands fans profess to love.
Not only this, but a full physical release really is the optimum way to appreciate the record of an artist with whom you feel you have a genuine connection with. So many bands – and I certainly include Fen in this – put an enormous amount of thought and consideration into the aesthetics of their releases. Therefore, the ultimate way to experience the record is in its entirety with artwork, lyrics and aesthetics being absorbed in conjunction with the sonics. Indeed, for a genre such as ours which is so rooted in atmosphere and ambience, it is even more important I feel.
Thankfully, I think a lot of metal listeners 'get' this – not only does the music of Fen lend itself to dovetailing with extensive, relevant imagery but also the metal genre has a tradition of fans devoting themselves to investing in the bands they support. Call it that 'collector' mentality if you will (some of the Maiden collections out there for example represent an unbelievable level of commitment) but I do think it is something that is quite prevalent in this scene of ours. Coupled with our label's commitment to producing exciting, well-produced and thought-through limited-editions of our albums, it's something we certainly support and encourage. Quality vinyls and box-sets are a refreshing antidote to the disposable, 'easy access' throwaway distraction culture being increasingly foisted upon us these days and therefore, long may their success continue!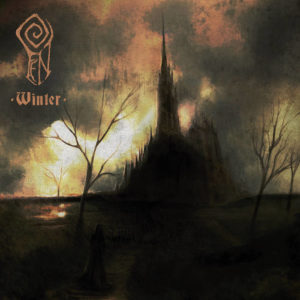 * Your latest release Winter comes out march 2017? I really like what I heard on your bandcamp – how would you explain the differences in your latest release compared to your past catalog to new listeners?
This latest record is without a doubt our most ambitious and indulgent full-length thus far. It of course retains the essence of Fen inasmuch that at its heart, it is an account of a striving, personal journey refracted through the bleak and sorrowful imagery of the fens, yet here we have pushed the compositional process even further. The progressive elements that we have dabbed with in the past are exemplified on 'Winter' and indeed, we set ourselves the goal of writing these songs from an almost 'classical composition' perspective – rather than songs essentially being segmented structures of riffs (riff A, riff B, riff C, riff A again e.t.c.) we pushed ourselves extremely hard to work with evolving themes and motifs, avoiding straightforward repetition and instead creating songs that are structured almost as a continuous 'flow' of music.
Indeed, this approach runs across the record as a whole and the entire album can be considered to be one long song, divided into several chapters.
* What was the one band that really got you into Black metal?
That's a hard question to answer really! I sank into the mire of extreme metal in around 1995 which is really when black metal had started to explode in the underground I guess. As a brit, I suppose I have to hold my hand up and confess that Cradle of Filth were in important band in the very early days and indeed, the 'Vempire' EP captivated me considerably when it came out. It was quickly supplanted by Emperor's 'In the Nightside Eclipse' and Dark Funeral's 'Secrets of the Black Arts' albums however – these were cornerstone releases for me in the early days, demonstrating a different level of composition, adopting an almost 'widescreen' wave-of-sound approach as opposed to the more traditional, riffy, 'Iron Maiden'-esque guitar work that Cradle utilised.
Certainly the early Dark Funeral material made an impression, clichéd as that band have now become – to hear guitars being used to effectively deliver a quasi-orchestral wall of reverbed distortion was something I had never heard before at that time and really lit the fires of inspiration for me. Of course, in the intervening two decades plus, I have long since appreciated that there are plenty of bands who adopt this approach, many of whom deliver it with a real sense of skill and nuance. However, 'back in the day', in the middle of nowhere with internet and very few like-minded listeners, these early records made a huge impression.
"For me, originality derives from a sense of uniqueness in terms of atmosphere and sonic presentation"
* What modern day Black Metal do you still rate as doing something new?
Well, the idea of 'something new' can mean different things to different people – indeed, it's possible to argue that 'true' originality within the sphere of extreme metal is virtually impossible, given that virtually every variation of guitars/bass/drums/voice has been explored in some way. For me, originality derives from a sense of uniqueness in terms of atmosphere and sonic presentation – essentially a band truly discovering their own voice and being moved by the sincerity of their expression to deliver something that has a sound all of its own.
In this, I do not count the kind of desperate genre 'mash-ups' that some listeners (and the artists doing it no doubt) believe screams 'originality' – melding black metal with electronica 'for the sake' of it for example, pointless noodly diversions and other surface-level pseudo-experimentations that really don't add anything to integrity of music.
So, artists for me that have defined their own voice, pushed (and continue to push) boundaries would include Blut Aus Nord – Vindsval is a powerful creative force, continually inspired and reinventing yet always retaining his own distinctive voice. Leviathan/Lurker of Chalice too, I think Wrest is another true creative and I'd also add Ruins of Beverast to this list as well. These are all effectively solo artists so perhaps this points to solitary expression as being a way of truly unshackling oneself from notions of creative restraint – after all, in a band, you have two, three, four, maybe more people contributing and in this, compromise could be factor perhaps? Who knows.
Having said that, there are bands that can blindside you still – the latest Inferno for example is very surprising and very different sounding. The UK's own Lychgate are stepping into incredibly advanced, leftfield realms of composition – though how much of a link their material will have to black metal remains to be seen! Ultimately, black metal will always have those at the speartip who will continue to push, seek and redefine the parameters of the genre.
* Outside of Black Metal do you look at any other types of music for inspiration and if so which bands?
Of course – by virtue of the style of black metal we play, which encompasses a variety of other textures and soundscapes, non-metal music plays a huge part of our listening palette. I draw an enormous amount of inspiration from shoegaze bands such as Slowdive, Ride, early The Verve and My Bloody Valentine as well as a number of post-rock artists also – Mogwai, Godspeed You! Black Emperor, Explosions in the Sky and Mono being key candidates from this scene. These are all outfits that pushed (or continue to push) at the boundaries of producing enveloping, absorbing
I also spend a lot of time listening to a number of classic records from the 70s prog scene – Yes, Genesis, Rush and several others – as, clichéd as this scene has been regarded in certain circles, the musical adventurousness of these bands cannot be denied. The more 'gentle' side of electronic music is an influence in some ways as well – at least from a position of ambience and generating a mood. Artists such as Black Dog, Global Communication and Boards of Canada play a definite part in helping shape some of the atmospheres we attempt to convey.
* How do you guys go crafting your songs? I know many bands start with a guitar lick and build but I imagine you guys work out a lot of your songs in the rehearsal studio?
The songwriting process is quite varied – sometimes it will originate from one or two quite simple ideas that myself or Grungyn have come up with and as you rightly say, we then go on to develop in the rehearsal studio. Whilst I am fully aware of the potential pitfalls of a 'jamming' approach to songwriting (that is, such noble intentions can frequently collapse in on themselves into a noodling, self-referential and disappointingly unadventurous soup), if deployed with discipline and control, it can sometimes lead to inspired results. Indeed, the second part of our most recent album originated from one or two central themes which we then developed around through experimentation within the rehearsal studio.
Other songs are composed and structured more comprehensively in isolation before being presented to the rest of the band. This can also be a good way to work, particularly if someone has a very defined vision as to how they perceive a song to be represented. I do find this quite a satisfying way to work on occasion – if I am feeling particularly solitary and inspired, it's a bit of a tonic to really chip away at a song, sculpt it and see it grow into something (hopefully) coherent and arresting! Of course, once an idea written in this way is presented to the rest of the band, it can be subject to change again – different interpretations of rhythms, suggestions on rearrangement e.t.c. so again, there is a fluidity even to this more controlled approach to writing.
"If you were hoping for us to be some form of nature worshipping troupe giving thanks to the Gods of the land in ancient druidic rituals taking place under moonlight in stone circles, I am sorry to have to disappoint you!"
* Are any of the band practicing pagans? If so what faith?
I am afraid not and I'm not really sure what a 'practicing pagan' represents in this day and age if I am honest. None of us really subscribes to any traditional notions of theism in the conventional sense – we all have our personal beliefs and views in respect of the self, spirituality and considerations beyond the limitations of the material realm but it isn't something I am really at liberty to go into at any great detail here. Suffice to say, if you were hoping for us to be some form of nature worshipping troupe giving thanks to the Gods of the land in ancient druidic rituals taking place under moonlight in stone circles, I am sorry to have to disappoint you!
* What do you hope this latest release "Winter" will accomplish for you guys?
Stepping back now and trying to assess the latest album as objectively as possible, I really think that it is a testament to how far we have come as a band in the last ten years. I appreciate it is very long, however we just felt a compulsion to create as much as we could with this record – to push every element of it as far as possible. At one stage, we were considering making a double album! Nevertheless, the goal was to distil the 'essence' of what it is that makes Fen, to produce something in which every aspect is redolent with our vision. I do believe Winter accomplishes this.
I know that it is often said that hope is a denial of the reality of expectation, however if I were to allow myself to hope, it would be that Winter is a release that really cements our individuality as a band, that underlines that which defines us apart from the labels we have carried in the past. Whilst it is flattering to receive constant comparisons to Agalloch and Alcest, for me, this album really does not sound like those two bands at all – it has many signifiers from the 'post black' and 'shoegaze' metal subgenres but in my opinion, it weaves them into a coherent whole that simply sounds like Fen at the end of the day.
So yes, for me, in an ideal world, Winter would represent a landmark release for us – a defining album which symbolises everything the band stands for and provides us with a springboard for another ten years of creativity.
"We have been confirmed for the Nordvis Hostfest in Norway in September"
* What else can we expect from Fen in 2017?
From a release perspective, the newest record should be landing any day now. We are also hoping to release a mini LP of our side of the 'Stone and Sea' split CD we released last year – this will be a MLP produced courtesy of Eisenwald Productions. We are also hopefully going to see our third album 'Dustwalker' released on vinyl as well – so it looks to be a vinyl-heavy year which is absolutely fine by me!
Other than that, we are looking towards playing live shows to spread the word of Winter – we have a number of interesting gigs in the UK this Spring including a mini-tour with Taake and a support slot with Primordial in London. Discussions are underway regarding a number of overseas shows also – we have been confirmed for the Nordvis Hostfest in Norway in September which promises to be an excellent event and several other gigs are in the pipeline. Many of these look to be very exciting so as soon as they become confirmed, we will of course update our fans via the usual mediums.
* Any final words?
I think we've more or less covered everything – thanks for the interview!