SHINING have released a video teaser for an arthouse documentary feat. Niklas Kvarforth, entitled "Cold Void". The notorious founder of the Swedish black metal act is the focal point of a new movie. The documentary tries to capture a personal portrait of Niklas Kvarforth, who has made headlines that have involved addiction, suicide and self-destruction, bipolar disorder, schizophrenia, passion, and exceptional musicianship. The project was undertaken by arthouse producer Claudio Marino and his film production company Artax Film.

"Cold Void" is scheduled for release in autumn. More information about Artax Film can be found at this link: www.artaxfilm.com
Claudio Marino states that "Cold Void" is a film for anyone interested in life stories, and was not made with the intention of pandering to SHINING's fans. It is very much a personal journey, bringing a much-needed clarity and lack of sensationalism to the subject of Niklas Kvarforth.
He also comments: "I've known about Niklas and his music for a long time. His story interested me and I wanted to know more about him as a person. I did some research and we got in contact. I showed him my documentary trilogy 'Blood and Spirit' and he was interested in working with me. We got along from the start and he proved to be very cooperative. He was brutally honest, and never left any of my questions unanswered."
Claudio Marino is known for his documentary "Blood and Spirit", a trilogy about three different artists who live for their art, a tattoo artist, an mixed martial arts fighter, and a Satanist, who happened to be Erik Danielsson from WATAIN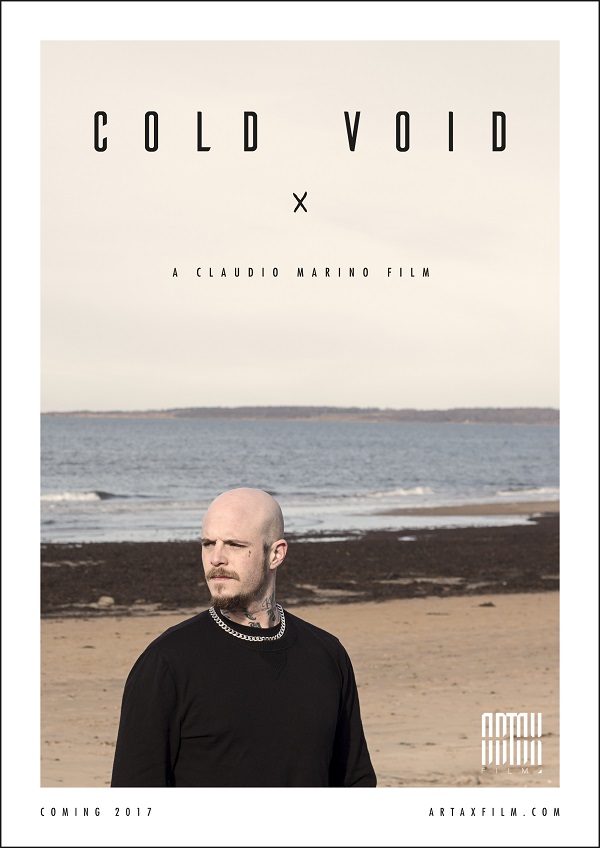 SHINING are embarking on their first headlining tour in the US today. Co-headlining will be label mates REVENGE. All currently confirmed dates including a performance at Germany's With Foll Force Open Air can be viewed below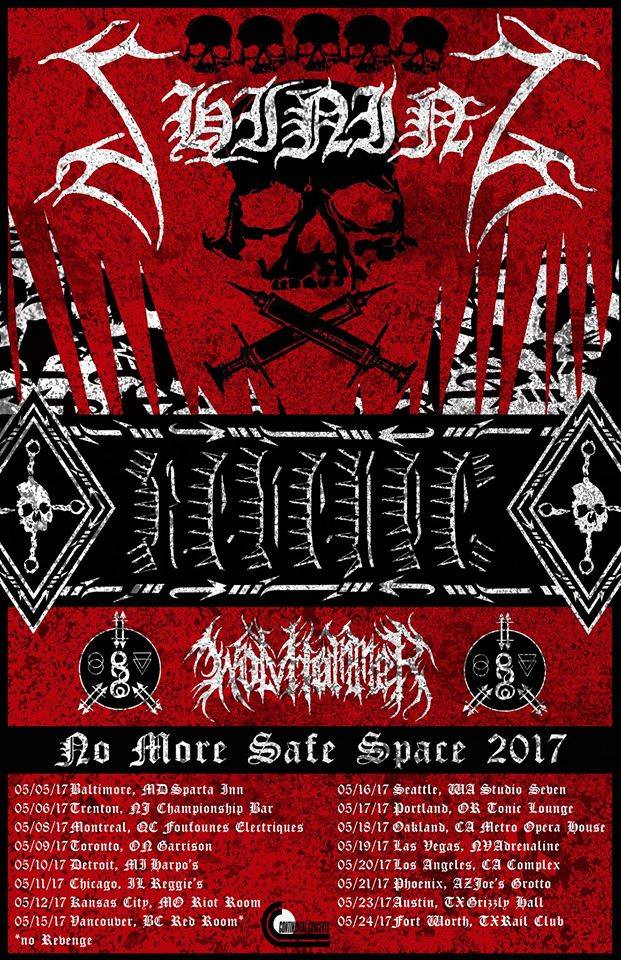 SHINING US Tour
+REVENGE
05 May 17 Baltimore, MD (US) Sparta Inn
06 May 17 Trenton. NJ (US) Backstage at Championship Bar
07 May 17 Quebec (CA) L'anti Bar
08 May 17 Montreal, QC (CA) Theatre Fairmount
09 May 17 Toronto, ON (CA) The Garrison
10 May 17 Detroit, MI (US) Harpo's
11 May 17 Chicago, IL (US) Reggie's
12 May 17 Kansas City, MO (US) Riot Room
14 May 17 Boise, ID (US) The Shredder
15 May 17 Vancouver, BC (CA) The Red Room (without Revenge)
16 May 17 Seattle, WA (US) Studio Seven
17 May 17 Portland, OR (US) Tonic Lounge
18 May 17 Oakland, CA (US) Metro Opera House
19 May 17 Las Vegas, NV (US) Adrenaline
20 May 17 Los Angeles, CA (US) Complex
21 May 17 Phoenix, AZ (US) Joe's Grotto
23 May 17 Austin, TX (US) Grizzly Hall
24 May 17 Fort Worth, TX (US) Rail Club
SHINING are more than just a band. In fact each release, every concert and interview becomes a bloody battleground, on which Niklas Kvarforth struggles with his inner demons. The frontman and only remaining original member has never been shy to let the world know about his mental afflictions, which seem to complement or even spark his outstanding talent as a composer and musician. His ninth album, 'IX – Everyone, Everything, Everywhere, Ends' is another excellent example of Niklas' genius. Reaching back to their black metal roots, SHINING simultaneously melt eclectic influences from progressive rock, jazz, even pop and more into deeply emotional laments from the dark side of the soul. Niklas' vocals come in an even greater variety of expressions which few would suspect in a singer coming from the extreme metal scene. Moments of pain and confusion turn into insane outbursts of anger. Despair shifts into melancholy and an eerie sense of timeless beauty permeates all. Lacking any tolerance for false tuning, technical flaws and lack of ambition, Niklas has literally beaten any weakness out of his band, which demonstrates its remarkable prowess far beyond any average on this record. Founded in 1996 by Kvarforth, SHINING self-released 'Submit to Self-Destruction' in 1998 and spawned the term "suicidal black metal" with this debut 7″. A couple years after first full-length 'I – Within Deep Dark Chambers' (2000) and sophomore album 'II – Livets Ändhållplats' (2001) had cut deep marks into the underground scene, Niklas replaced his whole crew and started a continuous cycle of changing his line-up. With MAYHEM drummer Hellhammer on board, 'III – Angst' (2003) and 'IV – The Eerie Cold' (2005) began to gather major metal press attention. SHINING then focused on bringing their vision and often controversially received live performances to Europe. Yet Kvarforth's mental health led to cancelled tours, physical and psychological fights within the band, and finally a break-up. Not content to let things rest after the breakdown, the restless singer returned with new members and the massively successful album 'V – Halmstad' (2007). SHINING had reached headliner status and toured with big acts such as SATYRICON and MAYHEM. Several line-up changes later, the Swede once again entered studio and recorded two albums in one session. 'VI – Klagopsalmer' was released in 2009 and two years later 'VII – Född Förlorare' darkened the light of day. The band also received their first gold disc for the single 'Förtvivlan, Min Arvedel' in Sweden. After rotating more musicians in and out, SHINING returned with 'Redefining Darkness' (2012) and a less aggressive, yet more sinister sound. Before signing to Season of Mist, the band released the project '8 ½ – Feberdrömmar I Vaket Tillstånd', which featured six of Kvarforth's favourite vocalists. In August 2014, SHINING entered Andy LaRocque's Sonic Train Studios to record their ninth album. 'IX – Everyone, Everything, Everywhere, Ends' is the sum of Niklas Kvarforth's musical evolution and experience so far. And while nobody expects the Swede to deliver a record to booze and sing along to, the charged word "art" enters the mind unbidden. This masterpiece should interest lovers of music far beyond the narrow confines of extreme metal. Plug your headphones in and find out for yourself!
Current line-up
Niklas Kvarforth – vocals
Peter Huss – guitars
Euge Valovirta – guitars
Marcus Hammarström – bass
Jarle Byberg – drums