While we mainly cover black metal and death metal here at Bruders Des Lichts we are also just fans of good ol heavy metal too. One of the newer power metal bands these days keeping the scene going is Pyramaze based in Denmark – today I spoke with American born keyboard player Jonah – read on
* First off congratulations on your new album Contingent its great to see you guys back without a 7 year break this time
Thank you so much for having me! Its good to be more consistent these days, thats for sure.
* How do you feel the song writing process differed on this album compared to Disciples of the Sun?
I think Disciples of the Sun was more about us getting our footing and testing the waters with this new lineup. Even though it came out fantastic, I still think we got a little lucky haha. With Contingent, we knew what we were capable of going into the writing and recording process and I think with that confidence comes some serious productivity. We are for sure firing on all cylinders these days.
I'm a big fan of writing strong melodies and chord progressions and building the song around that.
* If I am not mistaken you wrote about half of the album this time around? How do you approach songwriting , start with a keyboard riff and build out? Or do you start with a guitar part?
Actually it was more like a third of the album. I wrote Nemesis, Kingdom of Solace, The Tides That Wont Change, and the two instrumental tracks. I don't really have a set way of writing a song. I think if I did it would get stale. Sometimes I start by sitting at the piano and I just start playing, or maybe Ill be sitting in the studio and I come up with a cool idea on the spot. I'm a big fan of writing strong melodies and chord progressions and building the song around that.
* How does a guy from Vermont end up playing in a Danish metal band?
It has always been my dream to play in a Metal band in Europe, so I guess you could say Ive just been following my dreams. Ive been signed with Pyramaze for 15 years now, since I was 19 years old. Ive been with Pyramaze since its inception and I simply sent an audition VHS tape over to Michael Kammeyer when he was forming the band and looking for a keyboardist. The rest is history.
* For those who are not aware can you give us a run down of the semi-recent line up changes and how you guys found Terje?
After Matt Barlow went back to Iced Earth, we had some struggles trying to find someone that could really fill those big shoes. We had Urban Breed for a short while, but he was unfortunately able to commit the time and energy required to make Disciples of the Sun. Jacob suggested Terje who had a full and powerful voice and we loved the demos he did for us so we went with Terje. We are glad we did because he has really been awesome and been a pillar in our newer sound!
* How did the deal with Inner Wound Recordings come about?
I think Michael actually had a contract on the table with Inner Wound before he left the band. We re-approached them once we had solidified our new line-up with Jacob and Terje and they were still excited about what we had planned. Inner-Wound is a fantastic label, and we are excited to see what the future holds!
We try leave our own personal beliefs and political views out of the equation
* A lot of the songs this time around paint a pretty bleak view of the future, for you personal how do you feel about the current information age? For example in the 80s punks used to fear "Big Brother is watching you" but fast forward 30 years social media has most of us happily giving up all our personal information on a daily basis, is this a good thing or can it only end in tears?
I really don't think its as bad as some people make it out to be really. We try leave our own personal beliefs an political views out of the equation and focus on a positive message of unity and brotherhood throughout humanity. As with any big struggle, I believe it can be overcome by people coming together and fighting for whats right.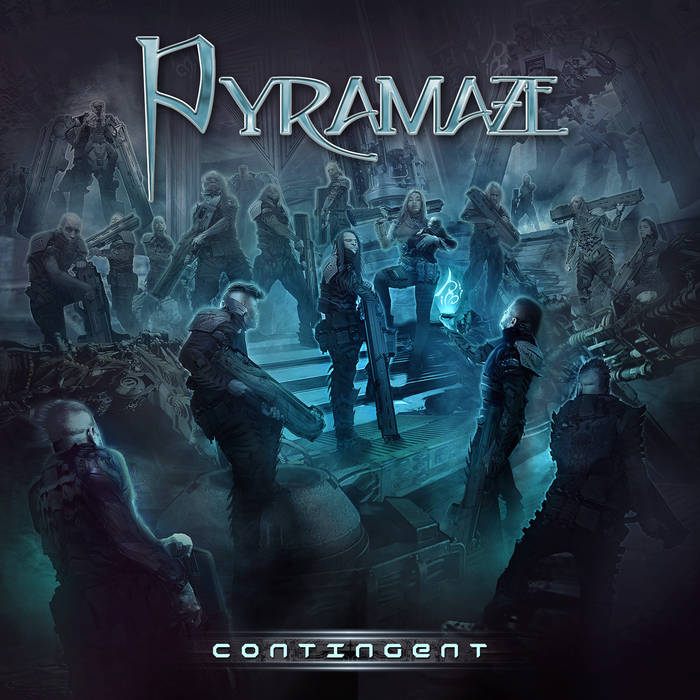 * I imagine you guys are big fans of sci fi movies – what are your favorite Post Apocalyptic films?
I love movies like Oblivion, Ender's Game, Edge of Tomorrow, all the Super Hero movies etc. Basically any big Summer blockbuster with an awesome soundtrack!
* Have you seen the film Alien Covenant yet? If so what are your thoughts? Supposedly in a deleted scene Daniels (the main female lead) and James Franco's character talk about why they are leaving the earth (environmental damage) to start a colony a good 7 light years away.
I'm embarrassed to say I actually haven't seen it yet. I was on tour with the band MindMaze when it came out in theaters. Otherwise I would have seen it for sure.
The biggest mistake humanity can make is thinking we know all the answers.
* What are your thoughts on these Ancient Alien theorists that the Earth has played host to many advanced civilizations over the last few million years? Almost as if civilizations rise and fall over the millennia?
I think its very interesting and I really think anything is possible. The biggest mistake humanity can make is thinking we know all the answers.
* Due to the current state of politics in Europe and the US where would you prefer to live in an ideal world?
I love where I live right now (Minnesota) but I also love to visit Europe of course. My hope is that they can figure it all out over there and live in peace and harmony.
* Outside of Progpower fest in Holland what touring plans does the band have for the rest of 2017?
None as of right now, but we are always open to the possibility of a good festival or show!
* Any final words?
Thank you so much for the interview of course to everyone out there who has supported Pyramaze over the years. if you are just hearing about us now be sure to check us out on YouTube, Spotify, Itunes etc. Thank you!