NE OBLIVISCARIS have released video footage from their first-ever acoustic set at the Bendigo Hotel, Melbourne, Australia. The re-imagining of "Painters of the Tempest: Pt. II, Movement III: Curator" from their most recent album 'Citadel'

The show was an exclusive event for the Australian progressive visionaries' Patreon membership that was also given access to a worldwide live stream. The bands Patreon page can be accessed at the link below.
www.patreon.com/neobliviscaris
The album's artwork, which has been designed by vocalist XEN and track-list of 'Citadel' can be viewed below.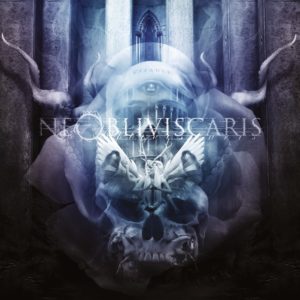 1. Painters of the Tempest (Part I): Wyrmholes
2. Painters of the Tempest (Part II): Triptych Lux
• Movement I: Creator
• Movement II: Cynosure
• Movement III: Curator
3. Painters of the Tempest (Part III): Reveries from the Stained Glass Womb
4. Pyrrhic
5. Devour Me, Colossus (Part I): Blackholes
6. Devour Me, Colossus (Part II): Contortions


"Ne Obliviscaris", which means "forget not" is the proud motto of Clan Campbell. These highlanders were as successful as ruthless and served as an inspiration for George R. R. Martin's blockbuster series "Game of Thrones". Yet the Australian band NE OBLIVISCARIS is neither dealing with folk metal nor bloody minded. It should be mentioned though that their compositions are at least as complex as Scotland's history. These six musicians share the adventurous spirit of Argyll's clansmen.
The multi-layered songs of their sophomore album 'Citadel' are building on a foundation of harsh metal with avant-garde elements of jazz, flamenco, progressive rock, and many more. NE OBLIVISCARIS display extraordinary musicianship and a depth of profound compositional abilities, one hardly expects from such a young group.
This impression is confirmed by one of Australia's most prestigious classical conservatories, the Sydney Conservatorium of Music adding the song "And Plague Flowers The Kaleidoscope" taken from NE OBLIVISCARIS' acclaimed debut full-length 'Portal of I' (2012) to their teaching curriculum. The band was founded in the beautiful Australian coastal City of Melbourne, Victoria in the year 2003. Their first demo 'The Aurora Veil' (2007), NE OBLIVISCARIS already garnered massive word-of-mouth prominence within the metal underground. Major press caught up with the debut album 'Portal of I', which showcased their unique array of influences and dynamic songwriting with a virtuous violin significantly adding to the sound.
The Australians also gained a reputation as an excellent live act, while supporting DEVIN TOWNSEND, ENSLAVED, BETWEEN THE BURIED & ME, CRADLE OF FILTH among others. After a highly successful three week headline tour throughout Asia including a sold out show in Tokyo, Japan NE OBLIVISCARIS started a crowd funding campaign to support further international touring. Their target of 37.500 US Dollars was reached in only 38 hours and the final sum of 56.644 US Dollars broke the previous Australian record. With 'Citadel' the band has begun to conquer the world.
Mixed and mastered Jens Bogren (OPETH, KATATONIA), this album spells international success for NE OBLIVISCARIS in capitals letter. Don't miss their shows and judge for yourself!
Current line-up
Xenoyr: harsh vocals
Tim Charles: violin & clear vocals
Benjamin Baret: lead guitar
Matt Klavins: guitar
Dan Presland: drums
www.facebook.com/NeObliviscarisBand