DER WEG EINER FREIHEIT are now revealing details of their forthcoming fourth album. The new masterpiece of the German rising black stars is entitled 'Finisterre', and will be in stores on August 25th.
The band furthermore release the cover art by Max Löffler and track-list of 'Finisterre', which can both be viewed below.
DER WEG EINER FREIHEIT explaining the album's details in a first studio report where the band talks about the drum and stdio recording process. The video can be viewed here:

DER WEG EINER FREIHEIT comment: "This album and its production process was one of the biggest challenges of our lives so far. Due to the fact that we took the whole production in our own hands, we had full control over everything but of course it was also hard work to achieve our vision and the sound we were looking for. However, now we're very proud of what we've created and happy to share these insights from the recording sessions with you! The first part covers the drum recordings and shows the life in the studio."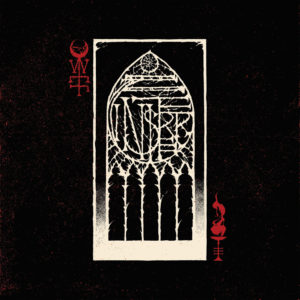 Tracklist
1. Aufbruch
2. Ein letzter Tanz
3. Skepsis Part I
4. Skepsis Part II
5. Finisterre
DER WEG EINER FREIHEIT previously announced a European headlining tour supported by French brothers in spirit, REGARDE LES HOMMES TOMBER and the recently added INTER ARMA.
Vocalist Nikita Kamprad comments: "We're stoked to have INTER ARMA as another special guest joining our album release tour this fall. All the way from the US they will enrich each night with their unique soundscape and thus complete this killer package. We can't wait, do not miss it!"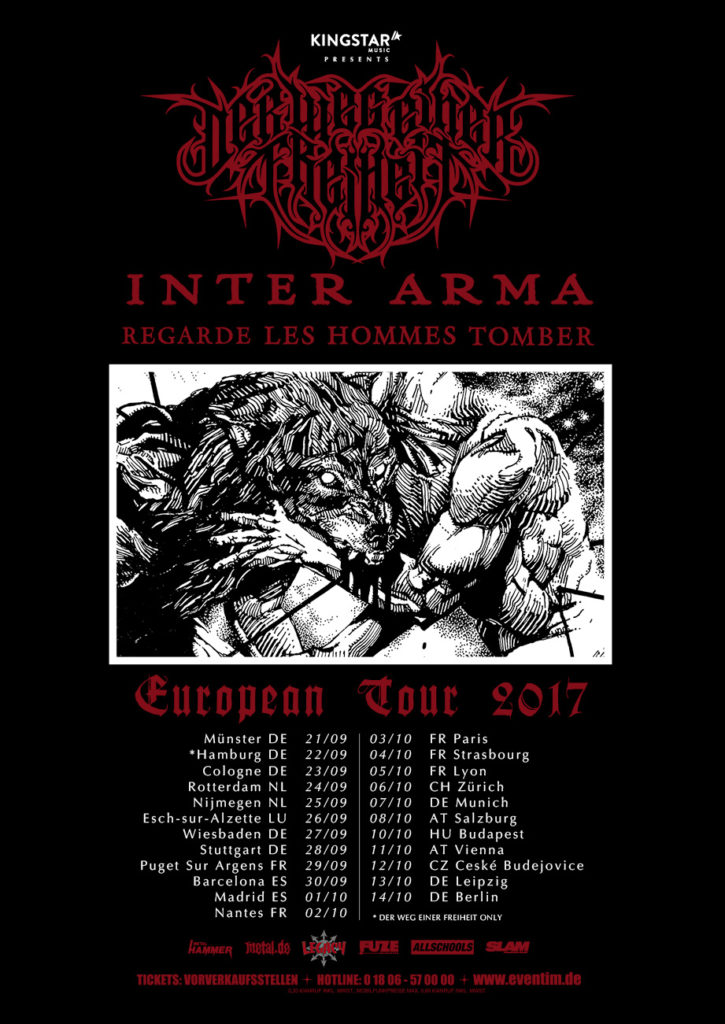 DER WEG EINER FREIHEIT Festivals
29 Jul 17 Albi Carmaux (FR) Xtreme Fest
09 Aug 17 Fortress Josefov (CZ) Brutal Assault Open Air
16 Aug 17 Dinkelsbühl (DE) Summer Breeze Open Air
22 Sep 17 Hamburg (DE) Hamburg Metal Dayz
DER WEG EINER FREIHEIT
+IINTER ARMA +REGARDE LES HOMMES TOMBER
21 Sep 17 Münster (DE) Gleis 22
23 Sep 17 Köln (DE) Underground
24 Sep 17 Rotterdam (NL) Baroeg
25 Sep 17 Nijmegen (NL) Merleyn
26 Sep 17 Esch-sur-Alzette (LU) Kulturfabrik
27 Sep 17 Wiesbaden (DE) Schlachthof
28 Sep 17 Stuttgart (DE) Keller Klub
29 Sep 17 Puget Sur Argens (FR) Le Rat's
30 Sep 17 Barcelona (ES) Razzmatazz 3
01 Oct 17 Madrid (ES) Sala Caracol
02 Oct 17 Nantes (FR) Le Ferrailleur
03 Oct 17 Paris (FR) Le Petit Bain
04 Oct 17 Strasbourg (FR) La Laiterie
05 Oct 17 Lyon (FR) O'Totem
06 Oct 17 Zürich (CH) Werk 21
07 Oct 17 München (DE) Kranhalle
08 Oct 17 Salzburg (AT) Rockhouse
10 Oct 17 Budapest (HU) Dürer Kert
11 Oct 17 Wien (AT) Arena
12 Oct 17 Ceské Budejovice (CZ) MC Fabrika
13 Oct 17 Leipzig (DE) UT Connewitz
14 Oct 17 Berlin (DE) Lido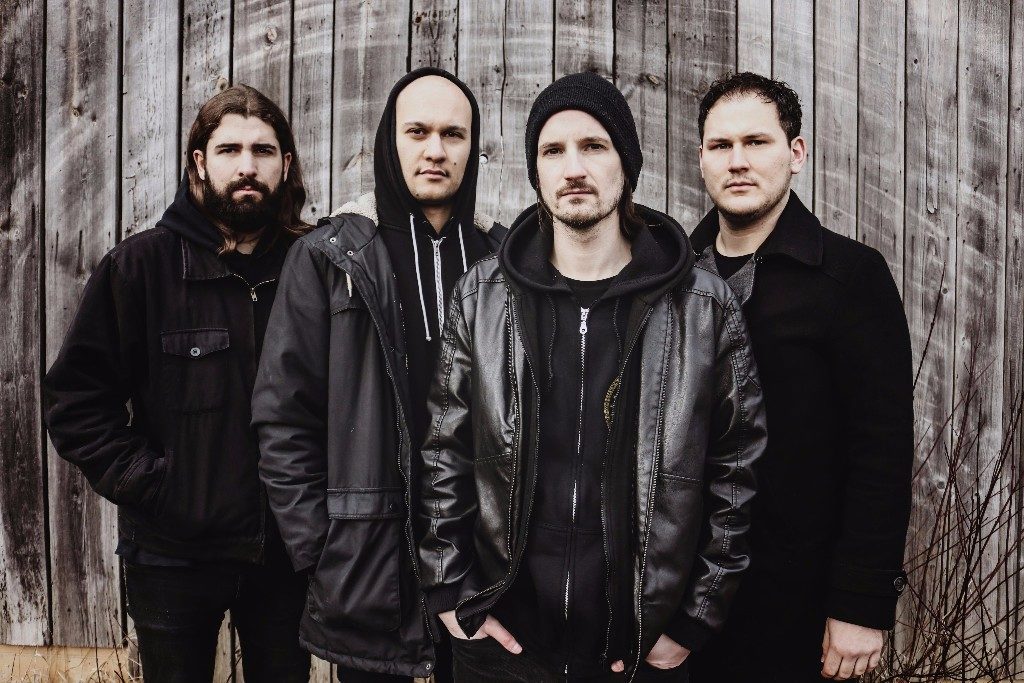 The musical puzzle that adds up to become DER WEG EINER FREIHEIT turns into something more complex – yet also clearer defined on the band's fourth studio album, 'Finisterre'. The original pieces are still in play: the aggressive German directness akin to ENDSTILLE and a penchant for brooding melancholy as embodied by IMPERIUM DEKADENZ. Spiralling psychedelic moments comparable to DEAFHEAVEN and WOLVES IN THE THRONE ROOM also find their place – as well as a knack for majestic melodies that shows parallels in Swedish black metal spearheaded by MARDUK and DARK FUNERAL.
Yet while DER WEG EINER FREIHEIT are clearly progressing along the lines laid out by their previous acclaimed effort, 'Stellar', the band has found a way to make these pieces fit more seamlessly. 'Finisterre' flows together into a coherent picture that stresses the Germans' unique approach and sound. This album marks the point where DER WEG EINER FREIHEIT turn their various influences into a work entirely of their own expression despite never trying to cover up their roots. This impressive maturity has been reached through several stages.
Founded in 2009 by guitarist Nikita Kamprad and vocalist Tobias Jaschinsky, DER WEG EINER FREIHEIT garnered early attention with their self-released debut 'Der Weg einer Freiheit' (2009), which quickly sold out and was re-issued with new drum tracks a year later. Following the 'Agonie' EP (2011), their second album 'Unstille' (2012) already cored international acclaim. In the aftermath of this record, co-founding member Tobias left and main songwriter Nikita Kamprad took over his vocal duties.
The frontman was first heard on third full-length 'Stellar' (2015), which saw DER WEG EINER FREIHEIT gaining traction across the pond as well as expanding their European base. Having performed along such diverse acts as WOLVES IN THE THRONE ROOM, NEAERA, THE BLACK DAHLIA MURDER, AMENRA, CRIPPLED BLACK PHOENIX, and DOWNFALL OF GAIA as well as playing prestigious festivals such as Graspop, Hellfest, Resurrection, Roadburn, Summer Breeze, and Wacken has honed the band's songwriting skills to razor-sharp precision.
'Finisterre' clearly stands at the apex (for now) of the steep climb that the DER WEG EINER FREIHEIT have taken. This German star is finally shining in full black.
www.derwegeinerfreiheit.de
www.facebook.com/derwegeinerfreiheit
Line-up
Nikita Kamprad: guitars, vocals
Tobias Schuler: drums
Sascha Rissling: guitars
Nico Ziska: bass
Recording line-up
Nikita Kamprad: guitars, bass, vocals
Tobias Schuler: drums
Recording: Ghost City Recordings, Nikita Kamprad
Mixing: Ghost City Recordings, Nikita Kamprad
Mastering: Original Mastering, Philipp Welsing
Cover art: Max Löffler