OODED MENACE are now premiering their complete forthcoming new album, 'Ossuarium Silhouettes Unhallowed', which will hit the shops on January 26th, 2018.
HOODED MENACE mastermind Lasse Pyykkö comments: "We are seriously stoked about 'Ossuarium Silhouettes Unhallowed' being officially out on the 26th January. We hope that you'll enjoy the full-album streaming right now!
2017 marked the 10 year anniversary of our band and now in 2018, we embrace the new decade(nce) for HOODED MENACE with an album that is perhaps our strongest to date. And that is a pretty damn good feeling."
HOODED MENACE are available for interviews by mail or Skype.
The artwork of 'Ossuarium Silhouettes Unhallowed', which has been created by Adam Burke (SÓLSTAFIR, PORTRAIT) can be viewed below.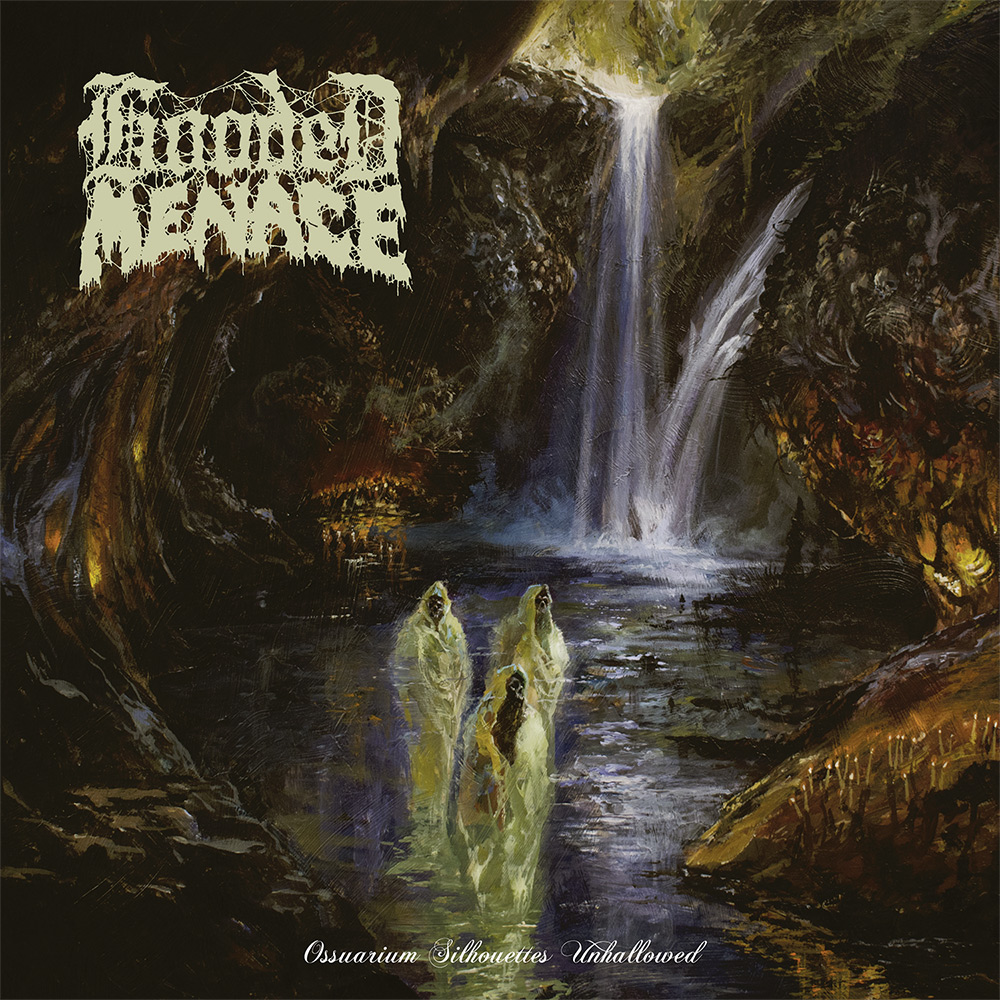 Track-list
1. Sempiternal Grotesqueries (10:38)
2. In Eerie Deliverance (7:05)
3. Cathedral of Labyrinthine Darkness (7:23)
4. Cascade of Ashes (6:43)
5. Charnel Reflections (7:48)
6. Black Moss (2:21)
Total playing time: 41:58

Doom has always been a style for a rather select but also very dedicated audience. Among the aficionados, HOODED MENACE have quickly become a household name for authenticity and excellence.
With their upcoming fifth album, 'Ossuarium Silhouettes Unhallowed', the Finns continue to impress with immaculate songwriting skills and the perfect balance between harsh death metal fuelled outbursts and exquisite melodic melancholy.
HOODED MENACE were formed in Joensuu, Finland in 2007 by guitarist Lasse Pyykkö, who had also performed in the Finnish cult death metal band PHLEGETHON. The band has always avowed to the strong influence by early CANDLEMASS and CATHEDRAL as well as PARADISE LOST, AUTOPSY, ASPHYX, and WINTER. Their lyrics are often inspired by the classic 1970's Spanish horror movie series 'The Blind Dead'.
HOODED MENACE recorded a 2-track demo, 'The Eyeless Horde' in 2007, which was released on 7″ the following year. Their debut album 'Fulfill the Curse' was released in 2008 and the highly acclaimed sophomore full-length 'Never Cross the Dead' came out in 2010. HOODED MENACE remained in a highly creative mode and delivered 'Effigies of Evil' in 2012 and their latest milestone, 'Darkness Drips Forth' in 2015. With a penchant for classic vinyl, the Finns also released several split singles and EPs for example with ASPHYX and COFFINS.
HOODED MENACE toured in Europe and North America, and performed at many major metal festivals such as Hellfest, Roadburn, Maryland Deathfest, Tuska, and Party San Open Air among others.
Now the time has once again come, when HOODED MENACE unleash skeletal horror and sombre despair onto their craving audience. The dead shall ride on 'Ossuarium Silhouettes Unhallowed' and the living shall rejoice!