Its not often you get younger bands who's skills are so good they can play like they are geezers from the 80's glory days of metal (Sumerlands and Eternal Champion are two that spring to mind) I have to admit I first heard about these guys on the news as their good friend who did some backing vocals for them is a politician and his enemies falsely accused him and by default the band of being Nazis (due to runic s's they had in their logic) but after seeking them out and listening to their tunes I became a fan – today I spoke with their guitarist Matt – read on!
* Congrats on the album its killer – how old are you guys? As you definitely are well versed in classic metal riffs and leads
Cheers! We're all approaching our mid-30s. So when we were first getting into metal we were listening to 80s and early 90s rock/metal. Even the cartoons, kid's TV shows and computer games around that time were unintentionally metal! So I think that subconsciously had a big influence on why we were drawn to awesome cheesy metal riffs and harmonised guitar solos.
* Can you give us a brief history of the band? There really isn't that much online about you guys
We've all played together in previous band over the years; I used to play in a tech-metal band called Tangaroa with Si (drummer) between 1998 – 2008. I also played in a band called 222 with Si. There have been smaller, more unknown projects me Si and Paul(guitar) have been involved in.
After years of trying to push myself creatively, trying to push myself to write unusual, unconventional metal with crazy time signatures, discordant bizarre scales, I wanted to write music purely for fun. I wanted to have fun with all the metal clichés that created the foundation of my guitar playing. Pay homage to all the influences that shaped my guitar playing style at an early age.
It was late 2015, Paul and I started to get together every weekend, we'd drink his crazy homebrew and play guitar. We had no goals other than wanting to write music for fun! There were times when we were jamming ideas and we'd both have to stop in hysterics because one of us would throw in a ridiculously cheesy harmony or melody!
I'd take the ideas back home, start creating song structures, write accompanying synth parts and program drum ideas.
We inevitably got Si involved and he started learning the drum parts. Soon after we asked Rob if he wanted to take on vocal duties. We'd worked with Rob in a covers band/party band called Stephen Hawkwind.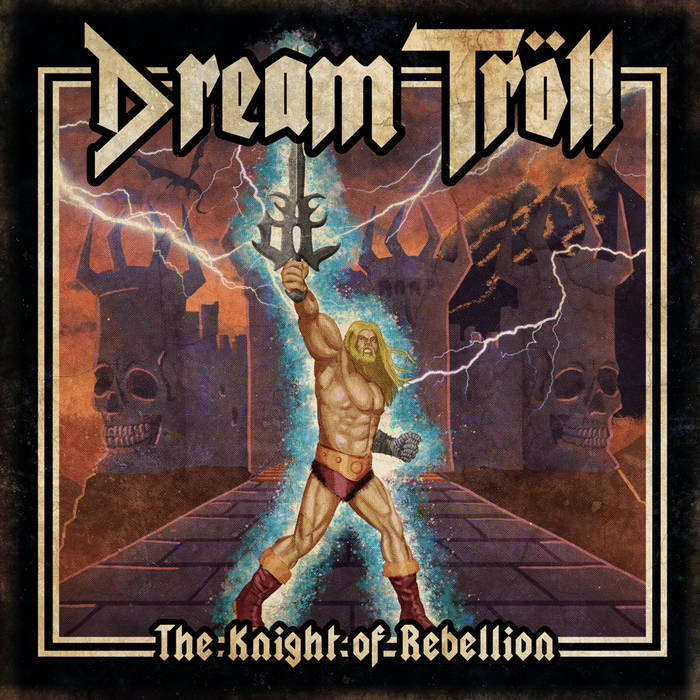 * What bands got you into metal growing up?
Originally it was a lot of 80s and early 90s rock metal that you'd typically expect; Especially Iron Maiden and Guns n Roses for me… Metallica, Megadeth, Ozzy, Sabbath, Aerosmith, Whitesnake, Slayer, Queen, AC/DC, Dio, Kiss, Def Leppard, Dream Theater, Queensrÿche, Motorhead, Meatloaf, Pantera.
Then came the mid-90s – most metallers won't admit their musical guilty pleasures from around that time haha!
In the late 90s and onwards our musical tastes drastically expanded, we started getting into a lot of extreme and experimental styles of metal.
* How many years have you being playing guitar and did you take lessons at all or all self taught?
I started playing guitar when I was about 12 years old, I had guitar lessons for the first year then I was self-taught. So I've been playing 22 years!! I think I should be a lot better considering I've been playing for 22 years (!!!) but I reached a stage about 10 years ago where I felt comfortable with my technical abilities and have enjoyed focusing on creativity and writing.
We wanted our artwork to tick a lot of the cheesy metal stereotype boxes
* How did you come up with the idea for the album cover art? Who painted it for you? What's the feedback been like?
He-Man!!! Haha! That's the majority of the feedback we've had!! We wanted our artwork to tick a lot of the cheesy metal stereotype boxes; swords, castles, buff metal warrior, dragons, skulls, lightning…
The He-Man similarities weren't intentional, but it goes back to what I mentioned earlier how we're obviously unconsciously influenced by 80s culture!
The artwork was done by a friend of ours, Andy Sykes, AKA Hexjibber. We wanted the artwork to reflect the music; to be on the blurred line of – is this serious or not?! A lot of people seem to 'get it' and have said they really like the artwork.
They had an agenda and they weren't going to let facts get in the way of a good smear story, right?!
* So what was the story with that accusation that you guys were nazis? Storm in a teacup? Political assassination of your mate or what?
Yeah, a blatant smear campaign! The tabloid scum were happy to throw us under a bus to get to Richard Burgon!!
We've known Richard Burgon (politician/Shadow Justice Secretary/Labour MP for East Leeds) for a long time. He's a huge metal fan and genuinely decent, honest guy. He used to put on an all-dayer in Leeds that Tangaroa used to play every year.
A few months back we went to see Gojira in Leeds. Rick was asking about Dream Troll and asked if he could do a guest spoken-word piece on the album. I immediately agreed, not only because I love his political speeches but also because of the absurdity of the Shadow Justice Secretary doing a guest piece on a metal album by a band called Dream Troll!!!
So before I explain the accusation I'll give you some context.
Last year, we were posting song names on Facebook, replacing the word 'roll' with 'troll' …Silly wordplay:
God gave rock and troll to you… long live rock n' troll… you can't kill rock and troll… We sold our soul for rock and troll… We built this city on rock and troll… For whom the bell trolls… etc…
To continue the joke, I thought about photoshoping a parody album cover of one of the above titles. The simplicity of the Sabbath-We Sold Our Soul, cover made that one an obvious choice. I made the pastiche/parody album cover, uploaded it… That was it…
Fast-forward to April 2017. Rick uploaded a photo of himself announcing his spoken-word collaboration with us. The Tory-backed tabloids saw it and started digging… They found the Sabbath parody cover on our social media pages, from which they were able to fabricate a ludicrous scenario where we 'delight in Nazi symbols' and claim that we spell our name in German military font, complete with an umlaut over the letter 'o'…!!!
Leading up to the release of the tabloid article on the night of the 15th April, we were informed of the accusations and the impending article. Rick and the Labour Party press office had already provided The S*n with an explanation and context of the image including photos of the original Sabbath cover. But they had an agenda and they weren't going to let facts get in the way of a good smear story, right?!
* How would you compare the metal scene when you guys were growing up to today's scene?
It would be unfair for me to compare today's metal scene to the scene when I was growing up as I was way more involved in it back in the day! I'm a retired veteran now haha, soon to make a comeback and probably complaining about how it "wasn't like this back in my day!!" – "these kids with their beatdowns and 9 string guitars!!".
A lot of experimental extreme metal on Relapse Records pushing the creative boundaries
* If you had a say in the matter do you think you would rather have been in a teen back when you guys were growing up or a teen today? (me personally I am glad I was a teen back then and not now)
That's a tricky one! When I was young I would do anything to get my hands on new music. Buying a new album was a real luxury back then! I would try and copy as much music from friends onto tapes or buy cheap records at car boot sales, stay up to watch Headbangers Ball or listen to the Radio One Rock show… I can't imagine what it would have been like to have YouTube and Spotify back then! It would have been great…… or would it?! When music is so freely available it loses its value; it's doesn't feel as special anymore! Music is so disposable now.
Also, during the 90s, rock and metal music was changing A LOT! It was an exciting time for music, even up until the late 90s with a lot of experimental extreme metal on Relapse Records pushing the creative boundaries and some great new melodic metal bands like Children of Bodom.
So I'm glad I experienced evolution of rock and metal throughout the 90s, even if it did include the birth of nu-metal! I wouldn't change it.
* Yorkshire has always had a great metal scene – how is the metal scene in Leeds these days?
It's still going strong. We've definitely got our fair share of extreme metal bands and metal bands of a heavier nature here in Leeds, so I'm not sure how Dream Troll will fit in when we start gigging …But, I've got to confess – I'm almost 35 now! I'm not as involved in the Leeds music scene as I was 10-15 years ago!
A recent highlight in the Leeds metal scene was the return of Canvas after 17 years! Their album 'Lost in Rock' has to be one of my favourite albums of all time! A real hidden gem in the rock world. A very weird album – it's definitely not for everyone! Si, Dream Troll drummer, was asked to join
Canvas and was set to be part of their reunion until he broke his arm in a motorbike accident at the end of last year.
There are still a lot of interesting bands coming out of the Black Metal scene
* What are your thoughts on more modern metal genres like Deathcore and Black Metal?
I'm not a big fan of Deathcore… I love Black Metal though! Emperor are one of my all-time favourite bands. There are still a lot of interesting bands coming out of the Black Metal scene; loads of great experimental Black Metal.
I'm a big fan of many other modern metal genres, bands like Meshuggah, Dillinger Escape Plan, all of Devin Townsend's work, Ephel Duath, Textures, Car Bomb, Destrage, Soilwork, Behemoth, Mastodon, Bodom, Brutal Truth, Dimmu Borgir, Morbid Angel, Napalm Death, Gojira… I'm very open-minded to new styles of music.
It's not self-indulgent unnecessary guitar wankery, it's really well thought out melodies and chords
* Are you guys familiar with the new wave of American bands that love the NWOBHM scene?
Yeah, the NWOTHM bands are great. I'm a huge fan of Eternal Champion and especially Sumerlands!! The Sumerlands album just keeps getting better; really nice natural warm production, fantastic song structures, and the guitar work (!!!!) – it's not self-indulgent unnecessary guitar wankery, it's really well thought out melodies and chords all intertwined. Love it!
Other bands that spring to mind… I'm really enjoying Visigoth, it's so metal!! Lunar Shadow – Far from Light, sounds like a demo, but it has loads of great harmonies and melodies… Witchtower, Striker, Skull Fist are a few others that I'm enjoying at the moment.
Although Dream Troll aren't trying to replicate the authentic old sound like a lot of the NWOTHM bands, we seem to get associated with the whole niche subgenre because of our obvious appreciation of the old rock and metal clichés and themes.
* What more can we expect from Dream Troll in 2017?
Gigs!!! I can't wait to play some gigs! After Si's motorbike accident, a small line-up change and getting a bassist, we're finally preparing to play some gigs. We're also in the middle of recording 3 new songs. We'll be releasing one of the songs on a split 7".
* Any final words?
We're really keen to keep things moving – we've written loads of new songs, slightly different sound to the songs on The Knight of Rebellion, but they still have the signature Dream Troll catchy melodies, maybe inspired even more by 80s culture! Our new singer is helping us to evolve our sound and bringing a lot more to the band. We'll be playing gigs soon, so promoters/bands, get in touch…