Today I spoke with Chicago Doom metalers Flesh of the Stars on their 3rd album "Anhilla", Life in the North side of Chicago and playing gigs in their friend's barn, read on:
* Firstly congrats on the release of your 3rd album Anhilla, was it a coincident you released it on Valentines day this year or was that planned?
Mike Fox: Thanks! It was very intentional. We actually waited a year to move on it because we specifically wanted to put it out on Valentine's day.
* What does the title Anhilla mean?
MF: It's just supposed to evoke "annihilation". No big mystery or anything unfortunately. I wish that I had a cooler answer because a number of people have asked us about it, but that's it unfortunately, haha.
* I feel this album was written to enjoy as a whole as opposed to the modern day mentality of "picking tracks" much like many classic rock albums were of the 70s..was that intentional or am I seeing into it too much?
MF: Yeah, absolutely! it was written to be a single track. It's firmly in concept album territory.
Travis Marmon: It was written as one continuous piece of music and we debated making it a single track. Parts of it work individually but it is intended to be consumed all at once.
Matt Ciani: I've said this before, but it's worth mentioning again: there's a single-track version of the record that I'll make available if anyone is interested.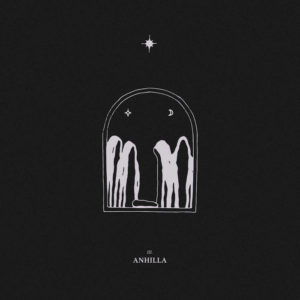 "All the projects we worked on in 2016 made us better at everything"
* I feel you guys have really developed your sound over the last 3 albums – what do you feel has been the biggest change since your first release "Hide" ?
MF: Production-wise, we've definitely gotten more comfortable with the equipment. Matt in particular has a very firm grasp on the space that we record in, and an even better grasp of the equipment that we use to record. We did something like four or five records last year, and we've become a lot more confident with our gear.
MC: All the projects we worked on in 2016 made us better at everything, but our recording quality probably saw the biggest leap forward. It also seems like our style is starting to stabilize.
Anhilla is less all-over-the-map than Hide or Hosanna. It conjures and single mood, for the most part. It took a little while, but I think we're finally past our early exploratory period as a band.
MF: With regards to songwriting, we've definitely been able to flesh things out a little more. Up until last August, I lived in Ohio, which made it significantly harder to sit down in a room and work songs out as a group. Anhilla was a nice first step away from that.
MC: When we finally started working on Anhilla material, we spent a lot of time actually playing together in my apartment, which is obviously a different vibe from when we used to practice alone, then do all our recording in quick weekend sessions when Mike and Nico would come to Chicago. The second half of Anhilla is the most live-in-a-room recording we've ever done as a group. That was really exciting for me.
* You have probably covered this in previous interviews but what are your influences? I am hearing everything from Sleep and Electric Wizard all the way through to Pink Floyd.
TM: All three of those bands are definitely an influence on us. We also love Pallbearer, Black Sabbath (obviously), Candlemass, Saint Vitus, etc. In the future I want to incorporate sludge like Eyehategod, Iron Monkey, Thou, and more. Outside of metal, we're all over the place.
MF: I listen to Warning a lot nowadays. Outside of metal Matt and I both listen to a lot of synth-centric music. Mort Garson, Kaitlyn Aurelia-Smith and John Carpenter have been pretty big influences on us. I listened to David Lang's Death Speaks a lot when we were making Anhilla, and I think that shows. I'm a pretty big Jim O'Rourke fan as well.
MC: I'm always down for some spooky folk music like Linda Perhacs and Anne Briggs. I realize how un-metal it is to mention Anne Briggs in an interview, but I'm doing it anyway. I'll also give a shout out to Minneapolis doom dudes Livid, who were one of the first mind-expanding doom shows I saw back before Flesh of the Stars were a thing.
"I'm realizing I actually listen to a ton of music riding in Mike's or Travis's car. Mike's CDs stress me out a little."
* What are your favorite ways to "consume" music? Me personally, if I am just checking something out youtube or spotify is fine but if I am really into a band I need the album and make an event of it and sit down and listen to the entire thing with no interruptions.
TM: Personally I need to be doing something while I listen to music, unless I'm on a plane or something. Usually I listen to full albums while using my computer, and I listen to an iPod on shuffle when I'm driving or going to work.
MF: Ditto with Travis. I'm usually listening to music while I work or drive. I also have a pretty extensive commute, and because my car's stereo doesn't have an AUX cable, I have around 400-500 CDs in there now. I also tend to listen to music while I cook.
MC: Ha. I'm realizing I actually listen to a ton of music riding in Mike's or Travis's car. Mike's CDs stress me out a little. As for my habits: I like to listen to music in an almost meditative state. I listen almost exclusively to full records. I'll put on dance music if I'm doing other stuff, but I generally don't like being distracted from listening.
"My and Nico's junior high band Nuclear Fallout, who mostly just had a cool-looking album cover. I think we practiced like three times before disbanding."
* Chicago has always been a great town for metal – were you guys in any name metal bands before Flesh of the Stars?
TM: No, this is the first metal band for all of us. I was in a blues rock/rockabilly cover band in college though.
MC: Mike and I have been in tons of bands, but most of them were based around Cleveland, Ohio, where we grew up, and none of them were metal bands. Unless you count my and Nico's junior high band Nuclear Fallout, who mostly just had a cool-looking album cover. I think we practiced like three times before disbanding.
MF: There was a brief period where I played in a stoner metal band called Wizard. We also disbanded after around 3 practices.
* Speaking of Chicago – how is live there these days? All we ever hear in NYC is all the killings every weekend in Chicago
TM: Like many big cities, the gun violence is very much concentrated in certain areas, which we don't normally go to. The North Side is no more dangerous than any other major city, and we love living here. All of us are transplants–I'm from the suburbs of Detroit, the other three are from outside of Cleveland. The reputation that the city has developed is unfortunate and I'm pretty unhappy with the local government's handling of it, but this is still my favorite city in the world. And the metal scene is insanely good.
MF: There's a lot of horrible socio-economic reasons why the south-side is the way it is, and like Travis said, I don't think that the local government has done much to help that. This city is pretty corrupt in a lot of ways, but it's still an amazing place to live. I certainly wouldn't want to live anywhere else at the moment.
MC: Chicago rules, but we have to take care of our people better. Us North Siders should always be trying to do more to help out the more underserved communities.
"Every time we've played live so far has been a weird and unique and fun experience. I would love it if we could keep it just as weird and awesome going forward"
* Do you guys play many live shows? If so what's been your favorite so far?
TM: We've only played three live shows so far, though we're trying to play more. It's been hard because our drummer lives in Ohio still–we're trying to find a live drummer in Chicago. My favorite was probably when we played with the Minneapolis bands Livid and Without at a dive bar in Wrigleyville. We played in front of almost nobody, but those bands are awesome and also very nice people, so it was fun to play for them.
MC: Our recent Columbus show was a fun kind of challenge. The venue neglected to hire a sound guy, so I had to set up the PA and run the board all night. Our other show was at our friend's barn in Ohio, where we provided a soundtrack to a pig roast. Every time we've played live so far has been a weird and unique and fun experience. I would love it if we could keep it just as weird and awesome going forward.
* Any plans for national tours or would you rather "pick your battles" and just play cool events? There is a good argument for both options.
TM: We love performing but we're really not built for life on the road. Matt and Mike enjoy recording and producing music as much as playing it. I've got health issues that would make extended touring difficult. We all have day jobs. It's just not really feasible. But we're down to play anywhere in the Great Lakes area.
MF: If we were invited to play at a cool event outside the GL region, I would absolutely jump at that. Otherwise, yeah, we're much more of a studio band.
* How do you guys write your songs? Does it start with a mood or feeling? or a guitar riff or?
MF: It really comes from all angles. I'll usually start with melody, riffs or chord progressions. Anhilla was much more of an attempt to cultivate a mood though. We also put a lot of effort into lyrics and a lot of times things evolve out of that.
* What's the recording process like for you guys – after 3 albums you must be vets by now?
MF: Very quick! We're extremely methodical when it comes to recording. We mix while while track for the most part, and it really only took about a month and a half for the whole process this time around.
MC: Yeah. It's always fast and fairly easy, honestly. We come in somewhat well-rehearsed and just bust it out in a few marathon sessions. We track drums whenever we can get Nico in town. I have a specific way I like drums to sound, so I pretty much do the same thing every time. For Anhilla, Travis did most of his bass live with Nico. After that, all the overdubs were done at my house or at our rehearsal/studio space in Evanston. Mike and I are both gear nerds, so I'm sure we could go on at great length about why we chose which amps/synths/mics we chose, but I'll spare you the boring details.
* What can we expect from Flesh of the Stars in 2017?
TM: Playing more shows and writing more music. MF: We've got a couple things rolling. We're taking it slightly slower this year than we did in 2015/2016, but there's a lot of things that we want to get moving on.
MC: I see no reason why we wouldn't get another record out before the end of the year.
* Any final words?
TM: Thanks for seeking us out! The response to this album has been awesome. We worked hard on it and the reactions have been super rewarding. MF: Ditto! Thanks for the support