Today I spoke to the boys from Grave Plague –  guys playing classic old school death metal in the vein of Obituary and Autopsy. We spoke about stealing death metal from your local library old school VHS horror film collecting and more – read on:
* So you guys formed about 2 years ago How did the band come together?
Thomas Haywood: The band was formed by Anthony Biello (ex-Severed Remains – Drums) and myself. Anthony had been itching to play again and really wanted to do something raw, uncompromising, and visceral. After a number of phone calls, texts, and online messages, I finally gave in and started writing some material. Joe (ex-Severed Remains – Vocals) was the next member added and it remained just the 3 of us until all the music was essentially written, although we always knew we were going to ask Michael Wilson (Abigail Williams, Aborted) to join.  We knew what we wanted to hear guitar lead-wise and knew, absolutely, that he was the man for the job. We reached out to Caleb Bingham (Athanasia), who's become a good friend of mine, also a Ohio native, currently living in Los Angeles, to mix the 2 song demo. Caleb ended up loving the material so much, we asked if he'd like to join in on second guitar, and the rest is history.
Joseph Reed: Basically Anthony and Tommy showed me the songs and I offered to lay down vocals. I knew they wanted Autopsy type of vocals and really raw intensity.
"Cleveland is a very rough place to live. It's a very violent and unsettling environment. The music reflects that"
* Cleveland has a great history as a rock/metal town – why do you think that is?
Joseph: Cleveland is a very rough place to live. It's a very violent and unsettling environment. The music reflects that. The city is also smaller so people tend to find one another easily.
Thomas: The sun never shines here…it's always grey and overcast. It is not a very pleasant place to live. It's cold 8 months out of the year – Cleveland is a cold hard place and I think that has a lot to do with the music that comes out of it.
*I love hearing young guys playing old school death metal – what would you say your biggest musical influences are?
Joseph: Old school death metal's influence for me has always been the ability to take a formula and create your own unique sound. Autopsy, Entombed, Obituary all achieved this.
Thomas: Autopsy are the kings, but all the usual suspects apply, Obituary, Entombed, Grave, Dismember, Immolation, the list goes on.
"Biello and I were very young. 12 and 13. Very impressionable. Obituary's Cause…and Morbid Angel Formulas…were pivotal. We stole both from the library."
* When did you get into Death metal and what were your "gateway" bands so to speak. I was speaking to a band a while back and the guitarist told me him and his buddy broke into an abandoned house when they were 12 and found an "at the gates slaughter of the soul" cassette left there..changed their lives – ha ha
Joseph: Biello and I were very young. 12 and 13. Very impressionable. Obituary's Cause…and Morbid Angel Formulas…were pivotal. We stole both from the library.
Thomas: Hm…honestly, Cannibal Corpse was the first, then probably Mortician ironically enough. I use to listen to this local radio show when I was 13-14 called "Day Man Lost" , and that show introduced me to Death and Black Metal – this would have been around 1993-94'. Decrepit, also from Cleveland, were one of the first – still one of my all time favorites!
* The Infected Crypts release came out this year – how's the feedback you've gotten so far?
Joseph: Amazing! Thank you to all the fans, zines, sites, and labels for the support.
Thomas: Incredible- blown away by the response of the demo!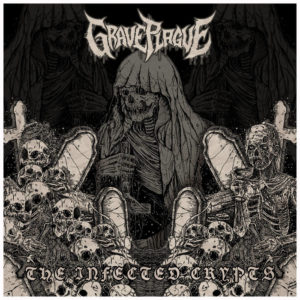 * I love the artwork – who did that and did you just buy the finished piece or did you have a vision in mind for what you wanted and just commission it?
Thomas: a friend from Brasil, Marcio Menezes, better known as Blasphemator Art, did all the artwork. My great friend, Felipe Eregion, of the Brasilian band, Unearthly, helped with some of the layout using the original artwork. It wasn't a purely commissioned piece persay, I told him what we ultimately were looking for, but Marcio is working on new pieces constantly, and shows me stuff all the time. There were a few pieces purchased from him for this album. He is great!
* You have released The Infected Crypts digitally, as a 7″ and a cassette. Are you surprised to see the return of cassettes esp in the grindcore / black metal and punk rock scenes?
Joseph: I'm not. When I was growing up I saw the vinyl revival in the hardcore and punk scene. Everything is cyclical.
Thomas: The cassette thing is a little strange to me – but I love it. It's still a pretty niche market, but there is a time and place for it.
* Out of the 3 formats listed above what was your favorite?
Joseph: The 7″ is rad and sounds great but Caco-Daemon did an amazing job with the tape. Both are cool respectively.
Thomas: I can't say I have a favorite, esp because the 7" hasn't been delivered by the factory yet haha. Still waiting. Caco-Daemon Records did a fantastic job on the cassette though for sure.
* Like most good death metal bands you have a fascination for 70s and 80s horror films…do you collect on VHS at all? (Have you seen the prices of good 80s VHS tapes on ebay? Its like $12 for a brand new blu ray and $400 for the VHS these days)
Joseph: I do collect VHS and there are some great distributors and collectors in Cleveland. My favorite tape is Maniac signed by Matt Harvey of Exhumed.
Thomas: Haha I'm not surprised. I have a pretty big collection on both VHS and DVD – maybe my shit will be worth that much someday !!
* What are your top 5 favorite horror films from the 80s?
Thomas: (these are not all from the 80's but whatever)
1. House by the Cemetery
2. The Beyond
3. The Shining
4. Let's Scare Jessica to Death
5. Poltergeist
Joseph: This is in no order.
1. City of the Living Dead
2. Prince of Darkness
3. Return of the Living Dead
4. The Shining
5: Inferno
* Do you rate any of the modern day horror franchises?
Joseph: I enjoyed Cabin Fever quite a bit and Wrong Turn. I think for the most part horror isn't viable anymore in mainstream cinema and the art of effect production is gone.
Thomas: Eh, there were a couple I liked. I actually quite enjoyed the first Insidious. I liked the Conjuring and The Conjuring 2 a lot as well. Others worth mention, The Mist, The House of the Devil, and It Follows.  I like more of the psychological / Supernatural horror films then all the ridiculous gore nonsense.
* How many live shows have you done so far? Any notable shows?
Thomas: No shows thus far. We are all old and have kids, day jobs, the whole 9 yards. If we get some festival offers or possible some short tour offers, we'd most definitely consider.
"It's been my dream to visit Sweden. Please book us. Anyone."
* Are there national /international touring plans on the horizon?
Thomas:  see above
Joseph: It's been my dream to visit Sweden. Please book us. Anyone.
* What else can we expect from Grave Plague in 2017?
Joseph: A full length LP. Pure death worshiping horror.
* Any final words?
Joseph: Thank you all for supporting us. Death metal lives.

GRAVE PLAGUE:
https://www.facebook.com/graveplague
REDEFINING DARKNESS RECORDS:
http://www.redefiningdarkness.com
https://redefiningdarknessrecords.bandcamp.com
https://www.facebook.com/redefiningdarkness
SEEING RED RECORDS:
http://www.seeingredrecords.com
https://seeingredrecords.bandcamp.com
https://www.facebook.com/seeingredrecords
TO DUST:
https://todustgrind.bandcamp.com
https://www.facebook.com/todustgrind
VINTAGE WARLORDS:
https://vintagewarlords.bandcamp.com/
https://www.facebook.com/vintagewarlords
HUMANITY IS CANCER:
https://www.facebook.com/humanityiscancer