I recently interviewed drummer TJ from the Richmond Based Death / Sludge / Black metal band Inter Arma here is what he had to say
* Richmond has a long history of great metal bands coming out of there – why do you think that is?
Richmond is very much so a transient city. Hardly anyone who lives here is actually born and raised here, myself included. A lot of imported talent.
* You have done a couple of releases on Relapse now – How did your deal with those guys come about and how do they compare as a label versus the indie labels you were on before hand and your self released stuff?
A friend of a friend of a friend gave someone at Relapse an as of that point unmixed copy of Sky Burial and they got in touch with us from there. Relapse is great. They're good people and treat us well. They're a little bit larger label and have their fingers in a few more pies so the exposure is a little bit better there.
* Paradise Gallows is one of my favorite records of 2016 such a great mix of doom, death, sludge, black metal – how do you guys write songs is it just Trey or Steve that come up with riffs or does everyone bring some thing to the party?
Everyone brings in ideas and riffs and we just pound em' out in the bandroom. As far as the mixture of genres, that's never a premeditated thing. If it sounds good and it feels good we run with it.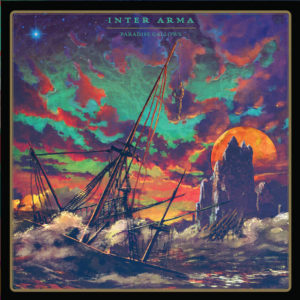 * Some of your song writing covers Post Apocalyptic themes – do you think that our society has a chance of carrying on or do you believe we need a major reset like a new black plague or Zombie Apocalypse to "cleanse the earth?"
Even with the recent "changing of the guards", I think life will go on and I don't believe any real change will happen. The rich will continue to get richer and the poor will still write heavy metal records.
* What sort of movies do you guys watch to gain inspiration for your music?
I enjoy movies in a different capacity. To me, they're an escape for 1-2 hours. I can't remember ever walking away from a movie and feeling inspired other than watching Fear and Loathing in Las Vegas and wanting to party.
* Staying with the post apocalyptic theme – the band name means "in times of war" right? Who came up with the name and what were they trying to convey by calling yourselves Inter Arma?
The name comes from the latin phrase "inter arma enin silent leges" which translates to "in times of war the law falls silent". As far as who came up with the name… I have no idea. It's between two past members and they still argue over it.
* Some of your songs have an almost trippy / psychedelic feel to them – do any of the band use psychedelics and if so what ones do they prefer Mushrooms? Acid? Ayahuasca? DMT?
I plead the fifth
* What was it like touring with Carcass and Deafheaven – what was your biggest "take away' from working with both bands?
I wouldn't necessarily say we learned anything other than both bands are filled with wonderful human beings and we learned to love Jagermeister.
* How well are you guys received in Europe? I know some US bands can't get arrested here in the US and are loved in Europe and some bands do amazing in the US and the Europeans don't want to know..where do you guys fall on this?
Europeans seem to dig us and I'd even go as far as saying that they're a little more understanding of this slightly odd type of music that we're playing.
* Which countries have you guys yet to play and which ones are you dying to hit? South America? Australia? Korea? etc
If there's a country we haven't played yet then we want to play it. Hell, we want to go back and play all the countries we've already played as well. Specifically, I'd like to play in the U.S.S.R.
* What can we expect new from Inter Arma? More touring? New Album?
Taking the holidays, playing a 10th anniversary show in February then hitting the road again.
* Any shout outs of final words?
Keep on rocking in the free world!
-T.J.