I recently spoke with legendary Greek Black metal band Kawir – we talked about what it takes to be in a band for over 25 years, the Greek Black metal scene, being a practicing pagan, playing shows in South America and much more.
1.Kawir has been going for over 3 decades now – why do you think you have managed to keep going for so long – especially when the average band lasts about 5 years? What's the secret?
Well you have to have confidence in your ability and the fire inside you otherwise as you said you will not last.
The secret is that I never saw it as an obligation so when I was feeling that now is the time I started to compose and recording,that's why in almost 25 years we have released 6 full length albums!
2.You had an early release on legendary label Cacophonous – how did that come to be?
Yeah back in 1993 we were in contact with Mirai(Sigh) and we anted to make a split together so we sent the material to Cacophonous they liked it and release the legendary split!
3. Greece has been known for its Epic metal bands but not so much its black metal – how did you discover black metal and what attracted you to playing it more than say Epic Death metal?
Actually as a part of the scene from the end of 80s(Nocturnal Death,Zemial) I was listening more Classic Heavy Metal and the first albums of Morbid Angel ,ASPHYX etc. but in the start of 90s I was felt more close to the black metal as it was more Philosophical and rebellion against the monotheistic religions.
4. How is the black metal scene in Greece? Are some towns stronger than others for our type of music?
Well Athens were always strong but the last years Thessaloniki started to have a good scene also.
5. Some non English speaking bands make a point to sing in English however you guys have stayed true to your native tongue which i think is great, do you feel it limits foreign audiences at all to enjoying your songs?
No there is no limit ,we are keeping the ancient values ,Ancient Greek language were the official language of the known world for thousand years even in Roman Empire all the books were written in Ancient Greek but also the new testament which is paradox for me as the First Christian Emperors were forbidden the Ancient Greek Language!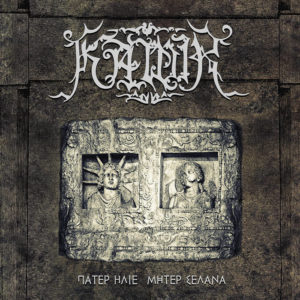 6. You guys sing a lot about Hellenic paganism – are any of the band members practicing pagans? if so what faith?
Actually yes I am practicing ,the correct term is Hellenic Polytheism.We are fighting for our recognition and our rights to perform our rituals again in our Ancient Temples.
7. You guys played Brazil this year – was that your first visit there? how did you enjoy it?
It was our first time in the American Soil (Brazil ,Chile and Canada).We liked it a lot ,the crowd was perfect gave us a lot energy and our performance there was total crazy.We gave them a promise that with the next album we will be back.
8. Have you done much touring of the USA? If not are there any places here you would love to play?
We never had the opportunity to tour in USA we would like to come and see the life there and play for the maniacs.
9. I know the band has played Finland before but have you ever played Norway or Sweden? If so how were you received playing there?
Yeah we have a lot of friends in Finland, we had a Finish tour back in 2007 with Skyforger and we played in Steelfest 2 years ago.Great memories I have to say.
It was supposed to play in Norway back in 2007 but it was canceled so we never played till now in Norway and Sweden.
10. Any final words?
A big thanks for all the support form our fans all these years I have to say the best are coming.Hails!!!