Decibel magazine's album of the year winners Khemmis spoke to me about murder hotels in Vegas, winning album of the year, Colorado's legal weed and much more – read on:
* First off congratulation on having album of the year in Decibel magazine – how did that feel? shock? validation?
Both. We were all very proud of the album, but we were definitely shocked to be at the top of such an amazing list with so many tremendous records and bands. Anyone who plays in a band will tell you that there are a lot of personal sacrifices and compromises to be made along the way, so having our names grace the pages of Decibel is very validating.
* Did you know when writing and recording the Hunted that you had something special on your hands?
It was definitely special to us. In our minds we had made an album that we enjoyed playing and listening to, and we did it together. The fact that it speaks to other people is icing on the cake. Dan (bass) was a bit concerned that, because the album lacked a focus on some of the stoner elements found on Absolution, we may lose some fans along the way. The other guys were more confident that other people would dig it. Regardless of any doubts we may have had, we never contemplated doing anything other than evolving into what you hear on Hunted.
* You guys call yourself Doom Rock N Roll – when I listen to your album I hear Sabbath, Candlemass, St Vitus, Traditional metal plus heavy bands like Yob and Pallbearer..which came first? Your traditional metal influences or did you start off with bands like Pallbearer and discover bands like Thin Lizzy later?
Though Black Sabbath predates the Doom label, they are generally considered the godfathers of the genre. Candlemass and St. Vitus are both known as doom bands too, though we understand the ambiguity in such labels. We've all been influenced by those classic Doom lords, but we've never had a conversation about wanting to sound like them or newer bands like Pallbearer. More directly, a shared love for Thin Lizzy, Iron Maiden, Sleep and Yob are the cornerstones of this band.
* Lyrics to your songs are pretty dark and dismal but you guys seem pretty well adjusted and fun loving..what's the trick between striking a balance between the two?
We don't believe that having fun and being well adjusted precludes having a dark side. In fact, people without a dark side, probably aren't very functional, as they're denying a natural part of their being. Our music allows us to achieve balance by being an outlet for us to discuss those things that can consume our thoughts or haunt us; we can exercise our fears, pain, and frustrations.
* Khemmis is an Egyptian city right? have any of the band visited there? Would you guys like to play there as a band or just visit as tourists? I know guys like Nader Sadek are trying their best to make Cairo a destination point for touring metal bands but I fear that with the way the religious right are there playing any form of metal will soon be illegal!
Khemmis is the Greek name for an ancient Egyptian city that was the birthplace of Horus. It is generally believed that the current city of Akhmim is the descendant of that place. The mythology of the city is interesting, but none of us have visited. There are so many places in the world we'd love to play, we're sure Egypt would be a great addition to that list.
* Your previous album Absolution was done with 20 buck spin as well. How did the deal with 20 buck spin come about?
Zach (drums) had a relationship with the label through his previous band, Vasaeleth; 20 Buck Spin put out a couple of their albums on vinyl. Zach planted the seed of working together while we were recording, and, once the album was finished, Dave (of 20BS) was the first person we sent it to. Zach really trusted and respected 20 Buck Spin, so we were all excited when they agreed to release the album.
* I know there was a cassette release of The Hunted as well – does it surprise you that cassettes have made such a "come back" especially in the underground metal scene?
It is surprising, though we all understand the nostalgia to some degree. We also understand the desire for bands to get their music down on physical media, and cassettes are still an inexpensive way to do that. For us, cassettes were never something we planned on doing, but we're glad it makes some people happy to have them.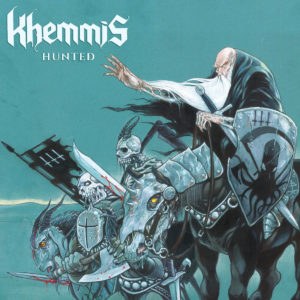 * Hailing from Colorado how do you feel the legal weed ruling has impacted the local scene? Has it made things better or worse?
No impact. The people who smoke weed and like stoner rock have always smoked weed and liked stoner rock. No fewer or more people come to shows or play in bands in Colorado as a result of legalized weed, at least not in our world. Snoop Dogg probably visits more often than he used to. Maybe hippie jam band weirdos have been affected, but if it has affected the metal scene in Denver, it'd be hard to prove.
* What does everyone do for day jobs? Is the plan to go full time with the band or would you rather keep it a passion as opposed to a career?
Although there is nothing we love more than playing music, we all knew that the band would take a place behind our families and career aspirations. Ben and Phil are PhD candidates; teaching, researching, and working on their doctorates. Zach is the talented head brewer at a great Denver brewery. Dan is a project manager and engineer on large scale commercial and infrastructure projects. Though we never intended to be a touring band, we're all willing to make reasonable compromises in our work and home lives to explore unique and exciting opportunities.
* What's been your favorite cities to play when on tour?
We've had varied responses in most of the places we've played more than once. For instance, the first time through Sacramento was a bummer, that last time was great. Despite the insane heat, Phoenix has always been pretty good to us. LA has been fun too; our friend Mike is a great host.
* What's been the worst city and why?
Vegas. The show we were told we'd have was never was a real thing, and the show we ended up with was a mess. We sold no merch and played in front of 3 (very nice) people. We couldn't find an affordable hotel in the whole city, and we got paid with an 18" cheese pizza. On the way out of Vegas, in search of reasonably priced accommodations, the only vacancy we could find was a murder room full of blood and feces (like blood spatter on the walls and beds). We ended up driving through the night to Phoenix.
* Any places you guys have yet to play that are on your bucket list? South America? Russia? New Zealand? that type of thing
Those all sound good. I think we'd be satisfied with a string of successful European dates at this point. One or two cool fests on that side of the pond would be ideal.
* You guys are playing Psycho Las Vegas in 2017 are there any bands on the bill there that you are looking forward to catching?
Yes… all of them. It's an incredible lineup. It's kind of hard to imagine how we're going to be able to take it all in. It wasn't easy for us to make it happen, but we're glad we could be part of such a great event.
* Any final words to your fans?
We are very grateful for all the support we've received. The folks who come to the shows and pump their fists, or sing along, or even just share an encouraging word, really make this experience an enjoyable one for us. In 2017, we're playing more shows outside of Denver than ever before, so we hope to meet many more of you good people on the road.