Today I spoke with Sam the bass player from one of the better Death metal bands coming out of the NY Scene – Artificial Brain – in case you have not seen these guys before their live show needs to be seen to be believed – always a great night out with these guys – read on and learn
* Most of you guys come from a pretty amazing pedigree of extreme bands – How did the Artificial Brain come together?
Dan (guitars) and I have known each other for our entire lives, basically, and all of the original instrumentalists grew up in the same town on Long Island. I went away to college in Boston after high school, and by the time I returned to New York, all of Dan's musical projects had dissolved. The two of us quickly started working together on some kind of mellow Virus-inspired instrumental music, and also on some acoustic material with Jonathan (guitars), who was close with Keith (drums). The band formed almost immediately after Dan first heard Keith play, and being that Keith's strengths are firmly in extreme metal, that's what we ended up doing. We didn't become involved with most of our associated acts until after the band had already formed, Buckshot Facelift (Will's long-running grind/death project) excluded. Since Artificial Brain started, Dan has joined Revocation, I've become involved with Gath Smane and Luminous Vault, Will has started singing for Afterbirth, Keith has filled in for Pyrrhon and is playing with a new band called Shredded, and we've also started to play with Oleg Zalman, who did some touring with Severed Savior.
He was the only person we tried out, and we offered him the gig at the first rehearsal.
* Will is a pretty unique front man – did you try out other guys before him or was it always a case that Will HAD TO be the singer?
For the first year or so of the band's life, Dan and I handled the vocal and lyrical duties. This phase of the band never left Long Island, and we realized pretty quickly that we'd be better served with a dedicated vocalist/lyricist – someone with a more commanding/less anxious stage presence. We had a friend sing for us at a couple of local shows, as more of a stop-gap measure than anything else, and we began to post some ads online. Eventually, after sifting through dozens of responses from lunatics on craigslist, our friend Paulo Paguntalan (who fills in for us live on occasion, and has played in Copremesis and Gath Smane) suggested Will. We had been fans of Will's old band, Biolich, and Dan had a band called Cyanide Breed that performed alongside those guys a couple of times, so we asked him to come out to a practice. He was the only person we tried out, and we offered him the gig at the first rehearsal.
* For some one who has never seen your live show before – how would you try to describe it?
We're going to play the songs faster than they are on the record, whether or not we intend to. Will is going to be wearing some strange strobe-light eyewear, and he's going to crack some jokes in between songs. At some point, there will likely be a verbal or visual reference made to fishing. Will is going to conduct the band for a little while, and the rest of us will be engaged in sporadic headbanging. Our show is often described as "high-energy."
* There is definitely some degree of "theater" to an AB show – was that something you guys planned from the start or did that just come naturally?
I think it's something that's developed really naturally. We, the instrumentalists, are just trying to play the songs aggressively and with relative accuracy – the theatrical element is Will's personality coming out on stage. He moves the way he does because he's feeling the music, and even the "space goggles" just started out as a practical thing. His vision is really poor, and so he got some big old-man sunglasses to wear on stage, which very quickly became popular with the fans. Before long, he started adding lights and wires and electrical tape, and now he's even got flashing LEDs in those things.
* How did you guys get a deal with Profound Lore and how it been so far to work with Chris?
We paid for the recording of "Labyrinth Constellation" out of pocket, because we really wanted a polished product to hand to a record label. Profound Lore was our first choice, and actually the only label we sent the record to, because we've loved so many of the records Chris has put out. In addition to feeling a connection with that roster, we have some friends who had worked with the label and had positive things to say, so it seemed like a natural fit. Thankfully, Chris was really into the record. Our working relationship has been great – he's extremely supportive and communicative, and the amount he gets done as an essentially one-man operation is pretty staggering.
* I try to catch you guys most times you play in NYC – what's the furthest you have played away from NY to date? Europe? The West Coast ?
We've played all over the United States, and we've played in a few cities in Canada so far. I think the farthest we've been has been Vancouver, BC, which is about 3,000 miles from where we live. We would love to play in Europe (or on any other continent that would have us) but we haven't yet had the opportunity.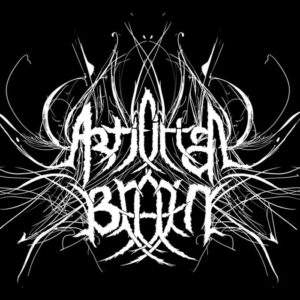 * How much touring has the band done so far and do you guys have aspirations of living on the road (going full time so to speak) with the band?
We've done two major North American tours to date. One of them was with Pyrrhon and Gigan, and the other was with The Black Dahlia Murder, Goatwhore, Iron Reagan, and Entheos. Aside from those, we've done some short regional tours with Cognitive, Pyrrhon, and Die Choking. We love touring, but realistically we're only able to do about one serious tour a year – we don't have aspirations of going full time, because some of us have careers outside of this band, or are on career paths, at least. Making a living off of music is extraordinarily difficult, particularly when you're based in a part of the country as expensive as Long Island, and we recognize that we're probably also limited, to a degree, by the weirdness of our music. Even a lot of the more accessible bands who are regularly a part of huge package tours really struggle to make ends meet, and while we think that's amazing, it doesn't seem feasible for us at this stage in our lives. That said, we're incredibly thankful to be able to do the amount of touring that we do.
I think the hardest part of playing extreme music in 2017 is really just trying to find something new to say
* What would you say is the toughest adversary facing extreme bands in 2017?
The lack of money can be tough, especially with record sales continuing to sink and underground concert ticket sales having stagnated so long ago…but as long as you don't go into extreme metal performance expecting to do much more than break even, and you're willing to accept the very low standard of living that comes along with touring for any extended period of time, this stuff should be fine. I think the hardest part of playing extreme music in 2017 is really just trying to find something new to say, and trying to get noticed in an internet over saturated with music.
This idea of trans-humanism is actually something that frightens me for a number of reasons
* The bands name is Artificial Brain – what are your thoughts on the "Transhuman" movement the belief that Humans can evolve beyond their bodies limitations with science and technology?
To an extent, this is all very exciting. I keep up on the news about CRISPR, and on a personal level, it would be amazing to live in a world that's unconcerned with alzheimers, cancer, infection, etc. This idea of transhumanism is actually something that frightens me for a number of reasons, though. I don't see as likely the cheery Ray Kurzweil view of the future, in which nano-machines wipe out all human disease in the blink of an eye, and make sure that we consistently perform at peak levels. Even if I were able to take this view, though, the idea that the human life-span would then dramatically increase doesn't necessarily seem like a positive. Over-population isn't just an issue because of the tremendous amount of waste that humans create, or because of crumbling food supplies – problems which Kurzweil sees being solved through nano-machines and radical farming techniques; it's an issue because we don't have the global infrastructure to support twenty billion people, nor would economies be able to handle this kind of burden. On top of those concerns, a world where people can address their perceived flaws by strengthening their memory or improving their jumping ability, surgically, would be spooky. Like a woman with an aquiline nose getting rhinoplasty in order to closer resemble a stereotypical Hollywood actress, the removal of traits that we've been convinced by society to see as imperfect would destroy individuality, rather than affirm it (as the transhumanist ideal is complete individual customization). We would all love to be geniuses, or to have extraordinary skills, but these things are made monumental by their rarity, to a degree.
* Do you think Hollywood has an agenda in pushing Transhuman topics as some people believe – A.I. features prominently in movies like Prometheus,Terminator, Alien Covenant, Blade Runner etc
I don't. We chose to tackle these kinds of ideas on "Infrared Horizon" because investigation into the existential implications of A.I seems to be fertile (if already tilled) ground, and because it also has the benefit of being exciting/attractive in an immediate way. It's my assumption that these films are produced and have success for much the same reasons. I'd also argue that all of the films you've listed function more as cautionary tales than as romanticizations of transhumanism (or related topics), for one thing. The Ridley Scott films, specifically, seem to be stories in the Frankenstein mold, about the hubris and potentially the immorality of this kind of creation. Transhumanism seems to come from a similar kind of hubris – and actually, the movie I can think of that most nearly tackles that issue is probably Gattaca, the 1997 film about eugenics and genetic discrimination – again, a dystopian slippery-slope kind of story.
A robot apocalypse sounds far more appealing to me than whatever potential doomsday scenarios we're looking at right now
* Even scientists like Steven Hawking are concerned about artificial intelligence soon becoming self aware, are you concerned at all for the future ??
Not particularly. We've got enough to worry about in the present, and I'm being absolutely honest when I say that a robot apocalypse sounds far more appealing to me than whatever potential doomsday scenarios we're looking at right now. There's also the chance that living with machines exponentially more intelligent than we are might not be all bad, which is to say that I, for one, welcome our new robot overlords.
* What more can we expect from Artificial Brain in 2017?
We're taking it easy for most of the summer, mostly writing – although we're going to be back up in Montreal with our label-mates in Chthe'ilist on August 12th. We'll also be performing at Louisville Deathfest in September. Aside from that, we've got some big tour plans that we can't discuss just yet!
Any final words?
Thanks so much for the thoughtful questions! And thanks to everyone who's been so supportive of our new record, "Infrared Horizon," which is out now on Profound Lore Records. Stay tuned for announcements about our touring plans, coming soon!