Today I spoke with the guys in Ordinul Negru – in case you have been living under a rock for the last 11 years these Romanians have been making some of the best Black metal you are going to hear in all of Europe – scroll to the bottom of the page to hear their latest masterpiece "Sorcery of Darkness"
* The name Ordinul Negru mean Black order in English? Is this a magickal path or some occult reference ?
The name represents the hidden, the essence of black metal, an eclectic cult only for a few devoted entities not for the masses, it is a personal approach, we do this for ourselves, for the sake of being alive in an environment that builds shells. This is our primary goal regarding this project, of course we interact with individuals that appreciate what we are doing, we like to play live now and then, we are happy if we receive good words and our albums are spreading into musical world, but we don't want this to develop into a full-time job, it's only for the soul because in our opinion this is the true statement of the art: for the sake of art not for the sake of an economic development.
* How is the Black metal scene in Romania these days as opposed to before the fall of Communism
Ironically it is less popular than it was in the nineties…there are fewer bands, but the quality has risen meanwhile…I don't know if there are possibly ten (black metal) active bands in the scene right now.
* Do you remember how you discovered Black metal? What was the first band you heard that totally blew your mind?
I had a small group of friends and a colleague in school from whom I discovered black metal…I don't remember exactly but I think the very first black metal album I listened was "Blood Ritual" from Samael…but also the very first releases from the Norwegian scene blew me away, and I still like and listen today to that music…Darkthrone, Mayhem, Emperor…and the second wave Ulver, Satyricon, Arcturus, In the woods…
* You guys have been extremely prolific with your song writing and musical releases – what drives you to be so productive – many bands do not even manage 3 albums in 10 years let alone 7 albums and numerous EP releases in 9 years
I think the passion to express ourselves, as I said we do not look for commercial success, we enjoy the process of composing, doing a pre-production at rehearsals, thinking about the songs, the lyrics, the graphic concept …taking pictures or working with professional photographers…things like that, if you are not under pressure for releasing something you are doing things naturally, without being something artificial, or because it has to be done and to be out at a certain date.
* From memory you did all the vocals up until 2015? Why the change? Do you feel more free now just focusing on the other parts of being in a band?
I just wanted to expand the project, and S is a friend of mine and a good vocalist, so I thought it will be something new and and a different approach.
* I see on your facebook you guys play live with extra members? Do you see the band as a touring entity? or would you rather focus on only playing Special events?
Well now we are a five-piece band, it developed through time, it was nothing planned, actually I wanted to record "Sorcery of Darkness" with Andrei Jumuga on drums and S on vocals, and then to work alone again for another material and to ask them for sessions again…but in the mean time we received some offers to play live and I liked the atmosphere inside this newly formatted group, so we decided to become a band, to play and record together new stuff.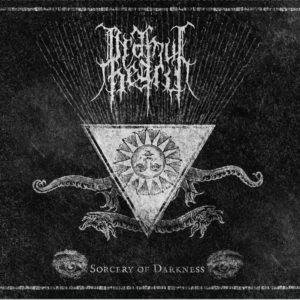 * Your town is Timisoara correct? How is the music scene there? What sort of jobs do you and the guys in the band have so that you can create music?
S lives in Brasov, that is in the middle of the country, and the rest of us yes, we live in Timisoara, that is in the west part of Romania close to the border with Hungry and Serbia.The music scene is pretty decent, we have good stoner/post rock and jazz bands, but into metal or extreme metal territory there are only a few "old" guys that are still around.
Job-wise we are quite different… some are working in the corporate business, one is a professor at the University, others are freelancers as tattoo-artist or working in a musical studio; it's interesting when we meet late at night how we transform to the other existential personality/dimension and unleash black cords into the rehearsal's room-air.
* I know that in western Romania there are 3 main dialects spoken Romanian Hungarian and German? Is this why you included some lyrics in German on the Sorcery of Darkness release?
Actually S has German citizenship as he lived there many years, so there has been some musical passages that I though will sound better if he will sing them in German language, there is nothing more to that…also the rest of that song (In ceas de noapte) has Romanian lyrics, it was an experiment…on the new album I don't think we will do it again, the lyrics will all be in English.
* Historically has there been much bad blood between Romanians Hungarians and Germans?
It depends who is writing that history, in the region we live in there has never been a big problem between nationalities, as far as I know we are the only city in Europe to have in three languages a state theatre: Hungarian, German and Romanian… this is one example; you can also study in this three languages(and others) University degree included…so the bad blood sometimes is provoked by others, maybe occult forces from outside of the country that have strategical interest in this area or left/right side extremists who are taking themselves too serious or have nothing else worth-living to do.
* Have you done much touring in Western Europe yet? If so what are your favorite cities to play?
With Ordinul Negru we played only in Romania until now, with other bands I toured more…I don't know there have been many great places were I played…in China I had a great time last year for example… festivals I like also because I have the chance to play for bigger audience and meet cool peple…Hell Fest, Party Sun or Kilkim Zaibu in Lithuania (probably my all time fave festival).
As cities Paris, I remember it was a very nice experience.
* What can we expect from Ordinul Negru in 2017?
Well hopefully an European tour in march as far as I know from our booking agency; right now there are being made the last preparation before we announce the country's/cities we will be in.
Also a new album definitely…we are working very hard in that direction these days.
* Any final words for your friends and fans?
Thank you very much for your attention and support!