I spoke with Roel from the Dutch band Soulemission today – if you like your black metal with Dissection and Emperor influences then check these guys out.
* How did your record deal with Black Lion records in Sweden happen?
We sent out quite a few promo packages to metal labels. There were labels, also one bigger one, that showed interest but nothing really materialized. One day I saw someone on Facebook mentioning the band Hyperion. I checked them out, liked what I heard and then I saw they were on Black Lion Records. I just sent them 2 songs and almost immediately got a reaction that they liked our material and wanted to sign us. So that worked out great. It's cool to have this album finally released.
* How did you get Niklas from the Shining to do vocals on Seas of Emptiness? Did you guys work together in the studio or did you just do everything over the internet? If you did indeed work together how did you find him to be in real life – I know a lot of people get mad at the guy (which he loves)
Niklas is a longtime friend of Benny, they also work together in Shining.
We thought that "Seas of Emptiness" would fit perfect with his type of vocals, and it worked out great! He recorded his vocal parts in Sweden and then send it to us, easy as that.
I understand if people have difficulties with him but he is a good friend of us and a professional in his job.

* Was it a deliberate choice to not have a drummer in the band? How do you plan your songs? Computers? drum machine?
The way this band started out is that Benny and myself had an idea to make some good extreme metal with variety in it. We threw some riffs around and recorded this at Benny's home studio with a computer drum program. After this we asked Michel to join on vocals. We looked around for drummers but it's hard in our neighbourhood to find one that fits our style. So we utalized the skills of Menthor (Enthroned), another friend of Benny, and he did an amazing job. Live we will use a session drummer and bassist for now.
* How do you guys write your songs? Does it start with a guitar riff? A lyric? An idea for a mood?
It always starts with riffs, yes. I have a riff library on my computer and I store riffs that could go together in a song. Then I'll bring that to Benny and we record it decent on his computer. He puts the computer drums under it, then we check if it goes together with some of his riffs and that's how we write. When the music is finished Michel will come up with the lyrics.
* What made you guys want to play black metal as opposed to say traditional metal or thrash metal?
We already played in Thrash and Death metal bands so now it was time for Blackmetal….just kidding! I don't really see our music as pure Black metal. I think it also has elements of Death/Thrash and traditional metal. But of course Michel's voice is pretty Black metal. What we wanted to do is play a style that was not too limited. We wanted to create strong moods, dark melodies and dynamics but still be raw. We especially like the Scandinavian scene from the nineties because a lot of those bands have these elements. So it was just a matter of playing the music we like and not care about being current or trendy.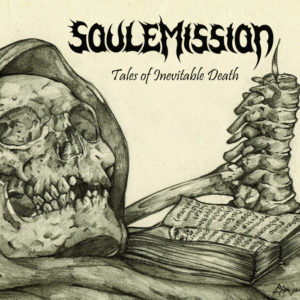 * Does the name Soulemission mean in English Soul Mission? Do you believe in life after death? in past lives?
We threw around lots of bandnames and Michel came up with Soulemission. It's Soul and Emission glued together. You can see it as the process of dying, the soul leaving the body which a lot of people believe. But also the outpouring of our souls into our music.
I believe in Live after Death as being an amazing live album by the one and only Maiden haha! None of us believe in religious fairytales, we don't need that in our lives.
* Michel has been in Cirith Gorgor and Roel was in the classic band Prostitute Disfigurement when you guys formed Soulemission what did you set out to do different from your previous bands?
Well Benny was also in Prostitute Disfigurement. Him and I go way back and we've always been a great team. On stage, in the studio and in the bar! We had a great time in Prostitute Disfigurement and experienced a lot of cool things. The only thing I was missing was being able to spread out musically. So now we can use the occasional acoustic guitar, a synth here and there. That's very important for me. Because I listen to a lot of different stuff.
*Eindhoven has always been a great city for metal – are all of you guys from Eindhoven or have you come from other parts of Holland?
Benny is from Eindhoven, Michel has been living in Eindhoven for a long time now and I grew up and live in a town next to Eindhoven. Of course it has a great metal history because of the Dynamo bar and festival but there aren't a lot of metal bands from Eindhoven that made it big. Eindhoven is more famous for it's rock bands.
* Did any of the band attend Eindhoven metal meet in 2016 ? if so what did you think? I used to attend some of the Dynamo metal festivals in the 90s – you dutch guys know how to host a great party!
Benny attends the festival every year, mostly for his job (sound engineer). It's a great festival and always nice to meet up with a lot of people from the business again.
* Have you guys played many live shows yet? Are you planning to tour? if so what would be the dream cities for Soulemission to play?
We did two try out shows last summer. One with Dutch band Carach Angren which went great. We are hoping to play more. We are signed to Doomstar booking agency so that's already a step in the right direction. We don't have a preference for certain cities but of course for certain festivals…because that's where you can show yourself to a big audience.
* Any final words for your friends and fans?
I know there are a shitload of bands nowadays and it's hard to be recognized as a new band but if you like some challenging, varied, exciting extreme metal please take a moment to check out our band. Please leave us a reply and spread the word. And we'll be eternally grateful! www.facebook.com/soulemission