Today, Blood Harvest Records sets March 23rd as the international release date for Mortiferum's debut demo, Altar of Decay, on digipack CD format. The release is precluded by a US tour (dates after the jump).
Hailing from Olympia, Washington, Mortiferum was formed by Max Bowman (guitars, vocals), Chase Slaker (guitars), and Alex Mody (drums, vocals). Their various bands (Bone Sickness, Ēōs) had played shows together pretty regularly in the local scene as the members shared a mutual interest in Finnish and American death metal, and had a similar vision for the music they wanted to play. In 2016, after several failed attempts to get a band going, the members got together and wrote the songs that became the first demo Altar Of Decay. They enlisted the help of Dan Fried (Triumvir Foul, Anhedonist) to fill in on bass, and recorded Altar of Decay in Mody's garage. Tracking guitars and drums live in their own space, with part-time keyboard player Ethan Camp as the engineer, Mortiferum were able to capture the songs in their most visceral form.
In the band's short existence, Mortiferum have already had the privilege of playing with such luminaries as Asphyx, Phrenelith, Blood Incantation, Qrixkuor, Triumvir Foul, Innumerable Forms, and many more. The band have recently announced the addition of full-time bassist Tony Wolfe, and are planning a West Coast tour with their friends in Fetid from Seattle (dates below).
In the meantime, revel in the roiling filth and fathomless darkness that Altar of Decay presents.

Cover and tracklisting are as follows: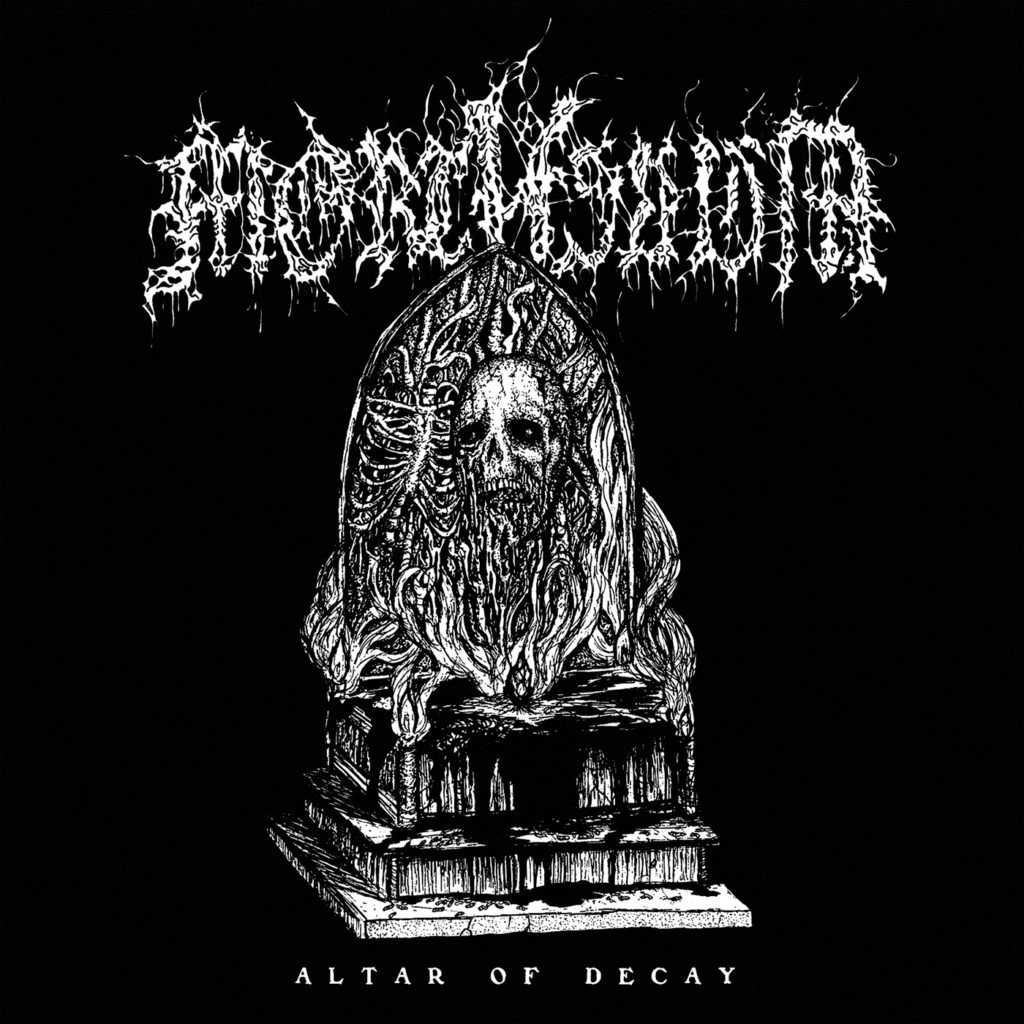 Tracklisting for Mortiferum's Altar of Decay
1. Altar Of Decay
2. Blood Chasm
3. Vitiated Mortality
4. Grave Invocation
upcoming MORTIFERUM tour dates
01/17 – Olympia, WA @ Cryptatropa (w/Acephalix, Scolex)
01/18 – Seattle, WA @ Highline (w/Acephalix, Scolex)
01/19 – Portland, OR @ Tonic Lounge (w/Acephalix, Scolex)
01/20 – Oakland, CA @ Golden Bull (w/Acephalix, Scolex)
01/22 – Las Vegas, NV @ The Garth
01/23 – Flagstaff, AZ @ Cottage House
01/24 – Santa Fe, NM @ The Cave
01/25 – Dallas, TX @ Reno's Chop Shop
01/26 – Houston, TX @ White Swan
01/27 – Austin, TX @ Lost Well
01/28 – El Paso, TX @ Apt. 512
01/29 – Phoenix, AZ @ Master's Chambers
01/30 – San Diego, CA @ Til-Two Club
01/31 – Long Beach, CA @ Que Sera
02/01 – Los Angeles, CA @ Resident
02/02 – Santa Cruz, CA @ Blue Lagoon
02/03 – Oakland, CA @ First Church Of The Buzzard
MORE INFO:
www.mortiferum.bandcamp.com