In their endless quest to push and support current underground acts that perpetuate the odor of vintage death metal, on October 23rd, Memento Mori is proud to present Pile of Excrements' highly anticipated debut album, Escatology. Hailing from Athens, Greece, Pile of Excrements was crapped into existence when drummer Shit Eater (Necrovorous, Embrace of Thorns, Chainsaw) joined forces with guitar/bass-player and vocalist Necropervert (Nightbreed, Chainsaw) with the vile intention of delighting the listener with the aural equivalent of the nauseating stench of one hundred drains clogged with foul-smelling turds and urine. And as the title of their debut album promises, Escatology is exactly that!
Pile of Excrements began clogging sewers last year with the Demo 2016 tape. In no uncertain terms, the duo laid bare their divinely depraved musical influences – Autopsy/Abscess, Pungent Stench, Master, Impetigo, Blood, Necrophagia, Mantas/Death, Cianide, Massacre, and Hellhammer – and completed it with a compulsive obsession with slasher/gore B-movies, shit of all kinds, and high-cholesterol food. But, that demo was but a mere appetizer for the filthy feast to follow in Escatology!
From the very first second "Bowel Rampage" shits itself into existence, it's crystal-clear these refined and suave Greek gentlemen are all about the FILTH in capital – and gushing – letters. From there, the foulness just starts flowing, one rough 'n' rancorous rush after another. Indeed, Pile of Excrements pile high the punk rockin' hooks so crucial to early death metal – that is, the original template laid out by the aforementioned masters – and keep the crush coming. It's 15 almost-anthems in a tight 'n' taut 40 minutes, but it's not all short/sharp/shocked: on the six-minute "Cult of the Unibrow," the duo go relatively epic whilst keeping the emphasis on the filth…where it should be! Featuring fittingly filthy cover art by Raul Fuentes and mastering by Cruciamentum's Dan Lowndes, Pile of Excrements make Escatology a masterclass in musical depravity!
Cover and tracklisting are as follows: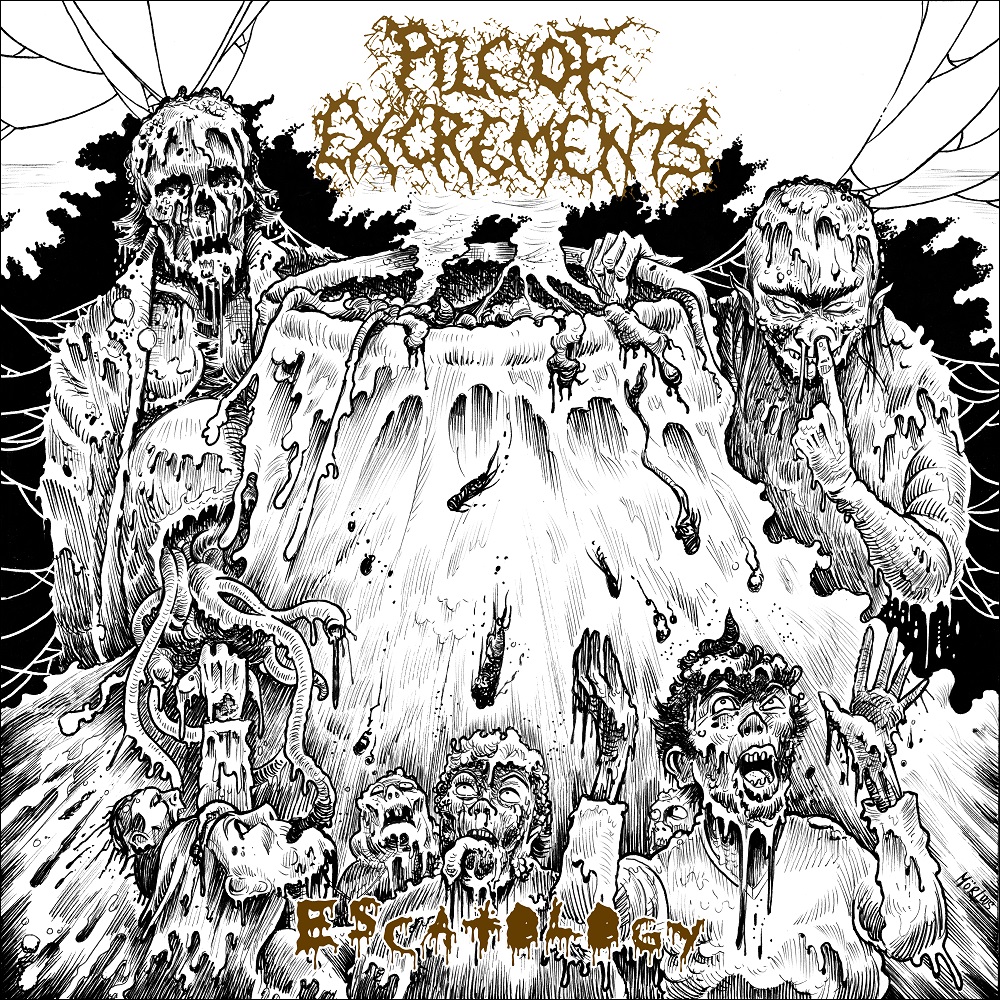 Tracklisting for Pile of Excrements' Escatology
1. Bowel Rampage
2. Miasma Cuming Embalming Fluids
3. Made in Chernobyl
4. Hooker with a Hook
5. Graveyard Delicatessen
6. Leper Orgy
7. Escatology
8. Silent but Deadly
9. Yellow Front, Brown Back
10. Minestrone
11. Cult of the Unibrow
12. Skourkos the Polluter
13. Buttfucked by Giant Cockroach
14. Human Compost
15. Tourette Aggressor
MORE INFO:
www.facebook.com/pileofexcrements