SINISTRO are announcing a string of European shows in support of PARADISE LOST and PALLBEARER. For the fascinating Portuguese, the tour will kick off at the Kulturfabrik in Esch-sur-Alzette, Luxembourg on September 27th and continue through 13 more European countries before coming to a close at the Columbia Theater in Germany's capital Berlin on the 9th of November.
Singer Patricia Andrade comments on behalf of the band: "We are very pleased to be touring with PARADISE LOST. It is not everyday, we are able to share the stage with a legendary band that was an important part of our adolescence and gives this tour a special feeling. We are also very much looking forward to be on the road such a great band as PALLBEARER. It is hardly surprising that we are very much looking forward to this tour. See you there!"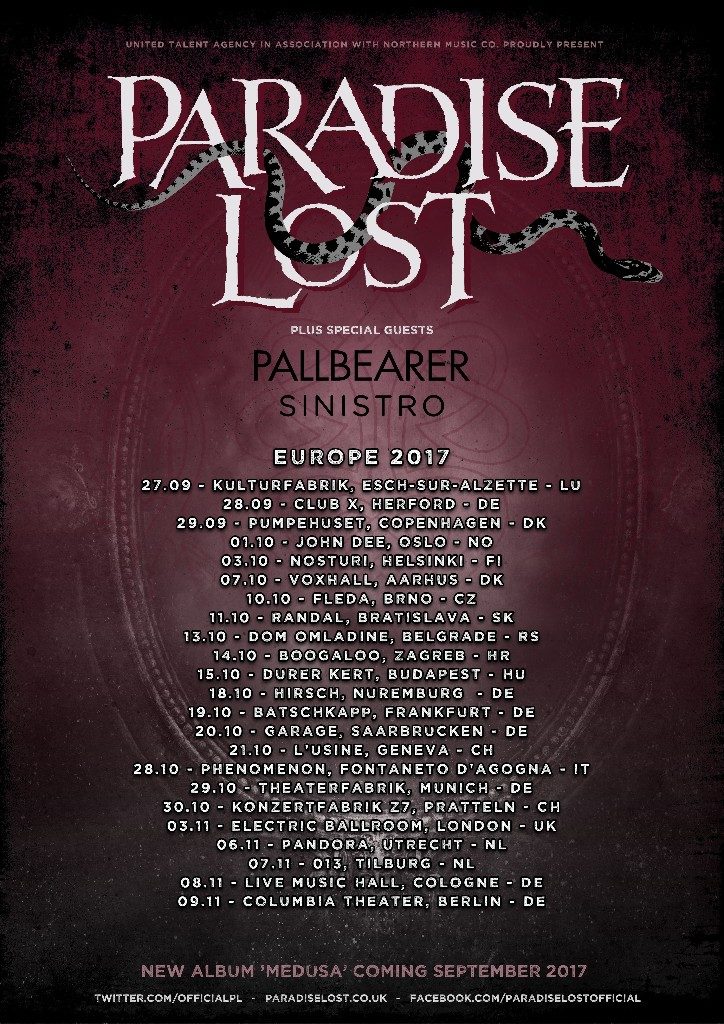 SINISTRO
+PARADISE LOST +PALLBEARER
27 Sep 17 Esch-Sur-Alzette (LU) Kulturfabrik
28 Sep 17 Herford (DE) X
29 Sep 17 København (DK) Pumpehuset
01 Oct 17 Oslo (NO) John Dee
03 Oct 17 Helsinki (FI) Nosturi
07 Oct 17 Aarhus (DK) Voxhall
10 Oct 17 Brno (CZ) Fleda
11 Oct 17 Bratislava (SK) Randal
13 Oct 17 Belgrade (RS) Dom Omladine
14 Oct 17 Zagreb (HR) Boogaloo
15 Oct 17 Budapest (HU) Dürer Kert
18 Oct 17 Nürnberg (DE) Hirsch
19 Oct 17 Frankfurt (DE) Batschkapp
20 Oct 17 Saarbrücken (DE) Garage
21 Oct 17 Genève (CH) L'Usine
28 Oct 17 Fontaneto D'Agogna (IT) Phenomenon
29 Oct 17 München (DE) Theaterfabrik
30 Oct 17 Pratteln (CH) Z7
03 Nov 17 London (UK) Electric Ballroom
06 Nov 17 Utrecht (NL) Pandora
07 Nov 17 Tilburg (NL) 013
08 Nov 17 Köln (DE) Live Music Hall
09 Nov 17 Berlin (DE) Columbia Theater
SINISTRO Festivals
02 Jun 17 Leipzig (DE) Wave Gotik Treffen
16 Jun 17 Dessel (BE) Graspop Metal Meeting 2017
05 Jul 17 Neskaupstaður (IS) Eistnaflug
SINISTRO are currently preparing for their sophomore album, which means that you can expect to hear brand new material as well as songs from their critically acclaimed dark melancholic masterpiece, 'Semente'.
Artwork and tracklist of 'Semente' can be viewed below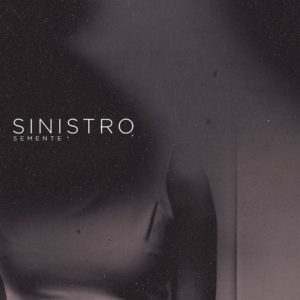 Tracklisting
1. Partida
2. Estrada
3. Corpo Presente
4. Semente
5. Relíquia
6. A Visita
7. Fragmento
Portugal is well known for its fascination with the morbid. Death is part of daily conversation. Its national chant, Fado, is the musical incarnation of melancholy and painful longing called "saudade". And the country's capital Lisbon only wakes up in the darkness of night.
From this unlikely location, SINISTRO emerged as an embodiment of both lush and devastating musical landscapes driven by five individuals from distinct art circles. Their new album 'Semente' ("Seed") is a fascinating exercise in amalgamating this national legacy into dark and fascinating sound. This unique music is quite hard to easily tag and file into a drawer. The mind tries tricks and attempts constructions like LANA DEL REY meets MY DYING BRIDE – only to drop the idea a minute later.
Looking for points of reference, SINISTRO might at any moment give reason for comparison with MASSIVE ATTACK, ENNIO MORRICONE, BOARDS OF CANADA, HOWARD SHORE, RADIOHEAD, FAITH NO MORE, ANGELO BADALAMENTI, DAVID BOWIE, SWANS, UNWOUND, MOGWAI, and CRIPPLED BLACK PHOENIX. Yet none of these names dropped here will make sense at another sequence. It is very much up to each listener to determine their own points of reference.
SINISTRO have been cultivating such sonic exploration since writing their self-titled debut album, which was released in 2012 and delivered elegant doom rock combined with a soundtrack like approach that harvested praise from both public and critics alike.
SINISTRO's following effort 'Cidade' (2013) welcomed singer Patrícia Andrade on board and went on to explore a massive wall of guitars combined with gritty keyboard layers and an emotional vocal performance. Backed by unanimous critical acclaim, 'Cidade' established SINISTRO as an essential name in the Portuguese music scene.
SINISTRO began composing 'Semente' in 2014. The band added a second guitarist to the fold, who helped push their unique style another step further. Keeping a cinematic feeling in the background, the Portuguese vary from abrasive musical thickness to a perfect sense of stillness, which portrays the urban landscapes of their homeland and its legacy with a strong visual presence. SINISTRO created seven brand new tracks that are bound to appeal to music fans of various genres. Now we shall leave you and kindly ask you to listen carefully to form your own opinion…
Line-up
Patricia Andrade – vocals
Y – guitar
F – bass, keys
R – guitar
P – drums
www.sinistroband.com
www.facebook.com/projectosinistro