I am sure most of you guys know about classic Swedish Death metal bands like Dismember and Entombed, however, not everyone knows about Death metal Legends Sarcasm, who only managed to record one full length back in the glory days of Swedish Death metal (Burial Dimensions). Today I spoke with lead singer Heval on why it took so long for them to record their full length – the changes in the scene from then to now and much more – read on
* Congratulations on the release of your second album it was a long time coming – why the long delay from Burial Dimensions to Within the Sphere of Ethereal Minds?
Thanks! Well, the simple answer is that the band didn't exist between 1994-2015, we reformed the band in 1997 just for one gig but we didn't have any plans to write new material back then. Our old stuff was re-released several times and we got a bit bored by that and thought something new has to be released so we started writing new material again in 2015 which led to the album "Within the Sphere of Ethereal Minds" It won't take 17 years to the next album I can assure you that lol
We recorded our debut album "Burial Dimensions" in 1994 but we broke up just after the recording
* Can you tell the readers a little bit about the history of the band for those who don't know
A very long story short, The band was formed in 1990 by me and Fredrik Wallenberg, after a period of line-up problems etc we started to release some demotapes from 1992-1994. We recorded our debut album "Burial Dimensions" in 1994 but we broke up just after the recording and the album remained unreleased and unheard for 17 years. We've had our share of setbacks of course, members quitting and dying but still we managed to manifest an album which we are truly proud of.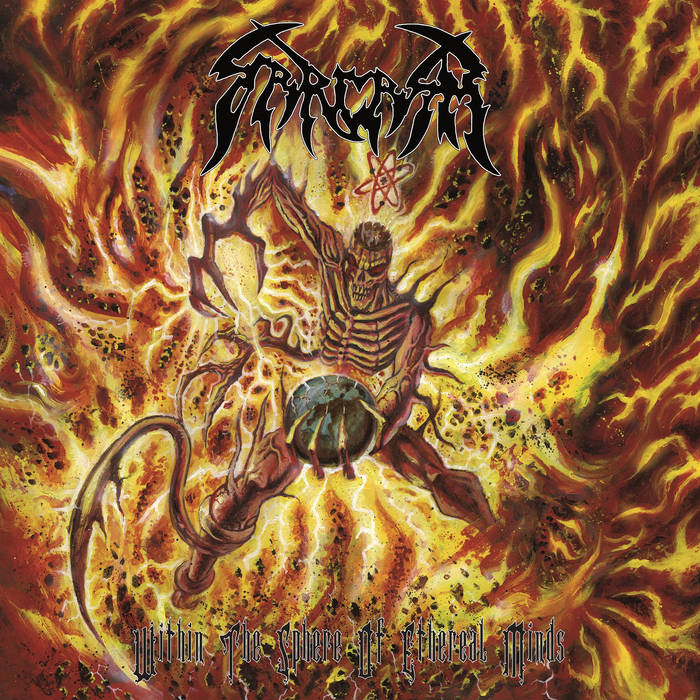 * Like you guys I was there during the very beginning of the Death Metal scene (and the Black metal scene) Can you explain what those days were like? (Hunting through records store for hours on end to try and find new bands, pen friends around the world sending new music by cassettes, etc)
Well for me it was very easy to find new stuff back in the day, I was fortunate to have a record store in my home town, Uppsala, it was called Expert and every metal album could be found there in the 80s, all the the obscure stuff that was released back then. And most of them were on sale just weeks after they were released, and still they kept bringing in all those cool albums. I remember I bought LPs like the first Necrodeath, the No Mercy album, the Raging Death compilation and almost all the New Renaissance titles and tons of others for just 3-4 bucks each. I bought everything that looked extreme back then, and I didn't even listened to the stuff before buying them and I thought everything was awesome. There was a record store in Stockholm as well, Heavy Sound, but they were a bit more expensive than Expert, but Heavy Sound had lots of demotapes, I bought lots of those there. And there were also some awesome post order places you could find great stuff. I started with serious tape trading during the demo days of our band, I got cool stuff from all over the place, and it was very easy to find like-minded people, but the process was slow, you could wait weeks for mails to arrive but it was magic in its own way, even though I prefer this "new" way of finding stuff with internet and all. So yeah we were pretty much obsessed with that whole death metal scene back then, I wasn't into that second wave of black metal scene so much, but we were big fans of the 80s black metal though.
* Sweden has been a hot bed of amazing metal for many years now – why do you think a country that is smaller than New York City produces so many great bands?
We have lots of spare time here I guess. And when it's so dark and cold here most of the time there's not much to do than write songs and rehearse and consume lots of alcohol. There were tons of great swedish bands from the 80s to mid 90s, there are some good newer underground bands of course, even though it's nothing compare to what once was. And unfortunately a lot of commercial and cheezy crap metal also.
Some of them evolved, they turned into death 'n' roll which I really disliked
* What would you say were the biggest differences between American and European Death metal bands back in the glory days?
The American bands were more technical, and many of them had their own unique sound in my opinion. I preferred those bands over European bands which I also liked but many of them, especially Swedish had the same sound and I was bored by that after a while. And when some of them evolved, they turned into death 'n' roll which I really disliked. And there were those few bands who really did their own thing, like Afflicted for instance who I truly liked, but none of those didn't get the attention they deserved because they didn't sound like all the others. Some of that early melodic death metal were genuinely good in my opinion, but that also turned into cheeze after a few years. But there were also some really good and exciting underground bands from Europe back in the day, especially from Finland. UK and Holland had some great stuff to.
I would have probably laughed at how amateurish we were and then left to see the first Black Sabbath show or something.
* If you had a time machine and could go back to 1990 again what do you think you would have done different with the band?
Actually I wouldn't do anything different . I don't believe in regrets and re-doing stuff. I would have probably laughed at how amateurish we were and then left to see the first Black Sabbath show or something.
* You've been making music a long time now – what are your thoughts and feelings on modern digital recording gear?
I love it, it's so much easier to record an album today like so much other stuff. That's what it is all about, it has to be easier with time. And a lot more fun.
* Are you surprised by the resurgence of vinyl and to a lesser degree the cassette format?
No, I knew those formats would wake up again. When everything is served and easy to find, people eventually get bored by that and want a physical product in their hands and shelves. That's a major part of the hobby, especially for metal heads. But Compared to how much vinyl sold back in the glory days it's nothing but still it's good to see that more people are buying it. And especially tapes.
* How did the deal with Dark Descent come about?
They re-released our first album together with all our demotapes, and did a great job, so I asked Matt if Dark Descent would be interested in releasing the new album also, he said yes and the deal was made. They did a terrific job on these releases, and they also released my other band, Third Storm.
We are all players in this eternal cosmic saga which we direct and co-create
* Songs like "Silent Waves Summoned Your Inner Being" feel very metaphysical – what are your views on the Universe, creation and our evolutions as souls?
We are always on the right path in this universe, there is no way to lose, even if we sometimes let the physical part of us believe that. But well-being is the order of the universe and the most important law. And right after the departure from the physical we are more than we were before and universe is expanding because of all that is, and we are all players in this eternal cosmic saga which we direct and co-create. We will never get it done and we can never get it wrong. The whole album is metaphysical yes, and "Silent Waves Summoned Your Inner Being" especially is a message from your inner being, saying that, you choose, no matter what, and you will choose to come back and experience more of the contrasts and all the levels of variety, because more is the nature and core of the energy stream that is your inner being.
* What are your favorite metal bands to come out of the last say 10 years?
Wow, last ten years, , I try to check out as many metal bands I can and have found many great new ones past years, let's see, I would say some of them are Sulphur Aeon, Exmortus, Tribulation, Dopelord, Phobocosm, Tau Cross, Khemmis, Hail Spirit Noir, Vektor, Ancient Empire, Atlantean Kodex, Crypt Sermon, Eruption, Satan's Hallow, Eternal Champion and many more. Some of them are perhaps more than 10 years old, I don't know, but they're relatively new to me. And there are also some great traditional heavy metal bands that have risen these past years which I think is awesome.
* What can we expect from Sarcasm for the rest of 2017?
We will do some shows in Sweden the second half of the year, and a tape box-set will be released by Darkness Shall Rise in august, besides that we're working on some new songs for the next album.
* Any final words?
Yeah man, thanks for this interview and see you soon, cheers!
thanks