Walpyrgus was formed in 2012 in Raleigh North Carolina to write, record and perform hard rock / heavy metal music. They're influenced by Black Sabbath, Iron Maiden, old Slayer , The Ramones, The Scorpions. Today I got to speak to Scott and Peter from the band – read on
* First off congrats on the album it sounds retro but with a totally fresh spin on it – how long were you guys working on this before you went into the studio?
Peter Lemieux: 'The Dead of Night' and 'We Are the Wolves' were the first demos I ever heard, so really since the formation of the band!
Scott Waldrop: Yes, Peter had a home studio right there in our jam space so we recorded lots of demos of these songs right when we started the band in 2012. It was about 3 years of long nights in the basement and several gigs in The Carolinas – and at some Fests to "test" the songs in front of a crowd. There were different incarnations of the tunes and we tweaked them several times before eventually going into "Volume 11 Studios" here in Raleigh NC to get the drums and guitar rhythms done. We of course, are all inspired by older bands from 70's prog to 80's punk, but we use modern gear.
For instance, Charley and I play through Mesa Boogie amps with modern guitars containing emg pickups. Him and I discussed guitar tone when we started the band – whether we wanted to play Gibson SG's through old Marshalls or go full "meathead" metal with the sound. So, we opted to use our pointy guitars with sizzle tones and that ethos of "modern tone" verses "old school song-writing" followed us aesthetically unto the album's completion. Basically, the philosophy was, "Let's write cool classic metal songs in the vein of the early 80's masters but let's take advantage of technology and not make this band a retro novelty by going out of our way to track down vintage gear and record on analog".
It's like if Gary Holt from Exodus was hired to come into The Grateful Dead's practice and whip the guitarists into shape
* How did you write for this album – does it start with a guitar riff? Lyrics? Does everyone bring ideas to the studio or do you rule with an iron fist?
Peter Lemieux: Scott, for the most part would come up with the skeleton tracks, i.e. rough guitar and some vocals! We would flesh out the songs together, at rehearsal, but also on the side with guitar jams and rhythm section practices!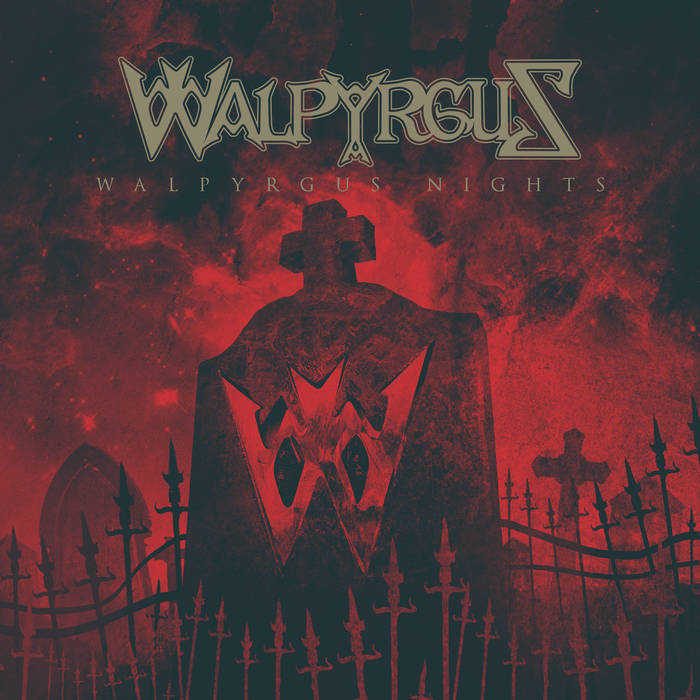 Scott Waldrop: That's right. I will write a song in my home studio with a drum machine. I'll do a simple guitar version with my example vocals/lyrics then take it to the band. At band practice, we'll pick it apart and scrutinize all the tempos, the rhythms, chord progression and fills. I give the guys something simple so that they can all bring their expertise to it. Peter will add all his cool quirky drum fills, Aune will fine-tune the melodies and vocal harmonies, Jim is always the "master" editor usually adding the minutia that give our songs their signature dynamics, and Charley basically just swoops in and polishes our guitar playing up completely. He obsesses over how many time we'll palm mute on a 16th note and have us bend our Schneker harmonies 100 times until he's somewhat "okay" with them, ha ha. He gives me the kick in the ass I need to NOT be a sloppy hippy of a musician. It's like if Gary Holt from Exodus was hired to come into The Grateful Dead's practice and whip the guitarists into shape, ha ha.
* How was the recording process? Did you guys use a lot of analog gear or was it all plugging right into the desk?
Scott Waldrop: No, we were in a proper studio for most of it but at the same time we did record in Pro-Tools. We didn't use analog at all but Tom went to great lengths to make the album sound as organic as possible. It's funny – we were tempted by those "reels" as both of the main studios we recorded the main tracks in down here in Raleigh NC have working vintage reel to reel machines. First, we went to Volume 11 Studios (owned by Mike Dean of Corrosion of Conformity) so it's like the C.O.C. "nest" in there – full of all kinds of amazing boutique effects, amps and vintage gear.
Mike Shaffer of local thrash legends Blatant Disarray engineered the drums and rhythm guitars. He even played some rhythm on "Torch" during the solo section which he didn't get credit for on the liner notes so I'll give it to him here, ha ha. Recording everything in that studio was incredibly fun. There's such a cool atmosphere and history in that room.
It's rad being surrounded by Corrosion of Conformity's road cases and there's this guitar stand Motorhead gave them, guitars Metallica gave them etc. Anyway, then we took the album a few blocks away over to long-time collaborator and Twisted Tower Dire engineer/vocal coach John E. Wooten of Widow and just a long-time friend. He's the guy I call if we need help with vocals or if I need help moving a piece of furniture. That said, recording vocals with him is pretty much the "fun stuff" being in a band is all about.
When we get together in the studio and start working we joke around between takes, laugh at ourselves, and you know- it's like we're still 20 years old. Wooten did however, wind up going to college for audio engineering and was mentored for a long time by producer James Lugo (if you google this guy his resume/client list is insane. I went over to their studio one night to help fix a cable and they were recording vocals for a Disney movie, ha ha ha. Anyway, so Wooten helped us produce the vocals. Many of the vocal melodies are his ideas and he probably should have received a little more "defined" credit on the liner notes as well.
He (Wooten) sang with us a lot on the album too on the back-up vocals. After vox, Tom Phillips took over orchestrating keyboards and editing EVERYTHING. He painstakingly nudged things bit by bit to keep the organic integrity of the album. The hours he spent doing this were unbelievable but it's the main thing that holds the album together as sounding "vintage". Once you "snap to the grid" it sounds like modern robotic production which turns a lot of people off including myself. I really wanted something between "Powerslave" and "Nevermind The Bullocks" when I referenced the overall "sonic wall" I wanted to hear. After Tom was done putting it through the "While Heaven Wept" ringer (which was an epic process to say the least), he sent it over to long-time trustee Kevin 131 of Assembly Line studios to mix it (again, look at his resume – the guy's a bad ass) and finally over to Kevin's mastering counterpart Bill Wolf to give the album its final polish. And there you go! That's a how a Walpyrgus album is made.
* You and bassist Jim were in OCT 31 together right – how did you guys meet? There has to be a good story there!
Scott Waldrop: I've never got this question, ha ha. It is a good one! Jim and I grew in the DC Metal scene and we were both Deceased fans. I saw his band Springheel Jack play with Deceased one time (we must have both been under 18 at the time) at the legendary Safari Club and I knew one day I would "steal" him ha ha. He was a totally awesome bass player back then already. He was this super tall and gangly kid with hair down to his ass and looked like Cliff Burton. I thought, "I need dudes like this in my band!"
Anyway, we knew each other for a while from the scene and when October 31 needed a singer Tony Taylor (TTD) tried out and got the gig. I think Tony kind of talked King into bringing me along as a "side package" because they wanted a rhythm guitar player after losing Kevin Lewis. Tony knew I was a big Deceased and that it was kind of like a "dream come true" for me to play in a band with King. So, Jim and I wound up riding together a lot on October 31 trips because I drove this little ford ranger pickup that only seats two.
We'd haul the gear in the back and put the other guys in Brian's car. Jim and I were immediate kindred spirits with very similar senses of humor and tastes in music so having each other's company made those long rides across the Midwest tolerable.
So, yea, we have like 20+ years- worth of voices and comic routines we entertain ourselves with on car rides to this day. Our bandmates pretty much just sit back and listen to us talk nonsense in weird voices for hours on end. I suppose the most pertinent bit of information is that him and I discovered early on that we had a very natural-flowing relationship when it comes to writing music. It's very easy for us to sit down with guitars and get creative and we know each other's weird quirks, as well as likes and dislikes. He can analyze seconds of me playing a guitar riff, then say, "Keep the first 'Dead Kennedys' dinga-ling, keep chugging on 'Seek & Destroy" and do the 'Revenge of the Nerds' funk stop," – and I'll know exactly what he's talking about.
Woman universally love him
* How did you find vocalist Jonny? Historically for so many bands, everyone spends years learning how to play guitar, or drums, how to write songs whatever and many singers are just like "yeah let me try that" whereas real singers like Jonny usually are very hard to find
Scott Waldrop: Jim Hunter was the talent scout that found Jonny, ha ha. He called me one day back around '07 and was like, "Man, there's this band of teenagers in a band called Viper I just saw last night and they're way better than us!" We were looking for a singer at the time so Jim insisted I go check them out. So, I went out and saw Viper play at The Berkley here in Raleigh and was amazed by this guy's stage presence and voice. Jonny is one of those guys who just resonates good vibes to everyone he comes across. He's very magnetic which is the most important aspect of a lead singer. He's the sort of person who's just great at whatever he tries to do. He was a great athlete in high school. He knows how to look cool and present himself aesthetically that's a little more over-the-top than most be never seeming to appear as though any effort is put into it. Woman universally love him and nonetheless he's married to his high school girlfriend. I don't know what the hell it is but the man has some swagger and some sort of "it" factor that is very special. So those are some of the things I love about the guy and why I like having him as our lead singer.
I'm just glad he wanted to be friends with me, ha ha ha. He's like this super charming, talented, beam of light who helps me channel my creative ideas. So, yea, we were just EXTREMELY lucky to find him when we did. You know, aside from all of his natural talent & mojo, he grew up playing bass & singing in his Dad's church. The Aune's are a very interesting and tight family. They'd been grooming him to be an awesome musician since he could walk & talk basically. He knows music theory from stacking hymn harmonies as a second nature. I've played with guys that have formal classical music training/college degrees like Tom Phillips and Jonny can have a conversation about counterpoints, Mixolydian, and minor 3rds with the best of them. I remember his Dad saying at his wedding that one of the things about his son that amazed him was his ability to excel at the things he loved to do. They had photos of him being projected on the wall from when he was this badass high school athlete, then there were photos of him when music came into his life and he was starting his own bands, and then lots of photos of him and his (now) wife & mother of his child Nicole growing up together. My point is, he's a very focused, intelligent, loyal, dedicated guy. He's the architype of the sort of person I want as a friend and a bandmate. I never worried about him. He's solid.
* In my opinion, its great seeing younger guys like yourselves playing almost a throwback to 80s style metal – tons of great guitar parts but also super tuneful songs. How did you guys get into this style of playing?
Scott Waldrop: As far as "music career" shelf life is concerned – I'm way passed my expiration date and indeed am older than dirt! Me, Tom, Jim, and Charley are in our 40's. You must have been looking at Carlos, Peter or Jonny, ha ha ha. Thank you though! I feel young physically and mentally. Well, Charley I met back in the mid 90's and he grew up with the whole Raleigh North Carolina scene – bands like Corrosion of Conformity, & Confessor.
Me, Jim & Tom grew up in the 80's/90's in the Washington DC music scene which entailed everything from punk/hardcore like Fugazi, Bad Brains, Minor Threat and the massive death/thrash metal scene centering around the community King Fowley of Deceased created. Up in D.C. there was ALSO the whole Pentagram / Maryland Doom Scene. You know- like most of the Hellhound bands were from the DC/Baltimore area like Revelation (Jim's old band), Iron Man, Internal Void etc.
In the city there was some awesome grass roots seminal heavy music & punk we were lucky to be a part of and witness. But a few miles out in the suburbs there was something else going on. Kids were watching MTV and seeing the California hair bands. In 1984 my neighborhood was full of teenagers who had their bedroom walls covered in Motley Crue & Van Halen posters. That music was like teenage religion back then so it made a big impression on me.
Peter Lemieux: Believe it or not, my dad got me into playing the old school traditional metal! He took me to all the concerts while I was growing up and we've gone to see each other's bands play countless times! The Dude plays Tony Iommi in a Black Sabbath Tribute for, Pete's sake!
I'm budgeting time between writing music and perusing new horizons like the world of ultrarunning and charity work
* Are you aware of bands like Sumerlands and Eternal Champion who are also kind of in this modern retro genre?
Scott Waldrop: I've heard of Eternal Champion and I know this genre has been stirred up and that it's simmered repeatedly since the mid 90's so it's never really gone too far out of fashion in the grand scheme of things. I used to be very involved in meeting and fraternizing with bands and I'm sure there's lots of amazing talent out there, but now that I'm 41 I like to spend my time differently. I don't drink alcohol anymore and just prefer to stay away from too much nightlife when possible. It's not that I don't care or want to encourage younger people to carry on this music or feel jaded in any way. I just have but so many hours in my day and days left in my life so I'm budgeting time between writing music and perusing new horizons like the world of ultrarunning and charity work (not to mention most importantly my beloved wife and teenage son). So, yea, I know about them but don't go out of my way to listen to new music and I do wish them well. I supposed I'm just acting my age. I'm still and extreme person but those characteristics of my personality just manifest in different ways rather than me going out and getting wild and crazy. When I play with newer bands I always very much enjoy seeing younger people playing this music and loving it as I do – it proves that the genre is timeless which is a beautiful thing. When I look around at all these younger bands it makes me feel like heavy metal has won. When I say that I mean that heavy metal has carved out a place for itself in popular culture. It's universal in its energy so new generations keep tapping into it. It's here to stay. I think metal will (in the long run) be a very defined genre separate from rock, rap, blues etc. It has its own culture which is ever-flowing, so kudos to bands like Sumerlands (I love that name) and Eternal Champion for taking "carrying the sword with a burning skull impaled on its tip". That run-on phrase sounded cooler and more metal than "carrying the torch".
I'm cool with a lot of wiccan ideas and I'm very much into spirituality
* Am I right in thinking Walyrgus is a variation of the word Walpurgis ? In Germanic folklore, Walpurgisnacht literally means "Witches' Night". Are any of the band practicing pagans? if so what faith?
Scott Waldrop: Yes, we wanted the band to be about occult and supernatural topics. No, we aren't into anything like that at all. It's all about dark fantasy metaphor because the words involved in its general vernacular sound cool. I'm cool with a lot of wiccan ideas and I'm very much into spirituality but I'm my own animal. I navigate ethereal matters on intuition and through meditation. I don't identify with any religion or group in-particular. I feel like to be in touch with spirit you need to remove yourself from religion or groups. Too much vernacular and dogma blur the focus of the mission which is to know spirit and not to belong to a secular group. We're all stardust that will succumb to the same final singularity. The second you ever arrive at any feeling like, "Okay, I've got this, there's nothing more to learn or understand", you've cut yourself off from the possibility of further growth. Health and wellness have become of paramount importance to me as a sober alcoholic. I think it's incumbent upon on all of us to continuously evolve as individuals and a species. That entails letting go of ego and seeking mindful consciousness as much as we can access it. Religion groups with which we identity our spiritual or philosophical perspectives is all too often fashion. What's worse is conviction, as it drives a wedge between people with conflicting beliefs. So Walpyrgus is just nonsensical tales of witchery and cartoon Armageddon. We're no less or more serious than Scooby Doo is about catching ghosts. Let's keep it real! I've seen what those dudes look like in the Renaissance Festivals. You think those boys could hold their own in The Viking Age??? Those were some scary times. You could legally walk up to some dude and be like, "I want your house, your wife, your children, …and I'm going to fight you to the death for them." And if the dude killed you, he got to keep all your stuff fair & square! So, no, there's like some Pagan "nature energy stuff" I relate to but I'm rather glad I don't have to make my way in The Dark Ages. I like doing 100-mile foot races. That's my idea of channeling my inner pagan-toughness. That's where I find a lot of my spirituality. I've been to a lot of conventions, festivals – even people's houses who were practicing wiccans, purported witches, and voodoo practitioners and it felt way too much like Cosplay to me. I'm like the saxophone player from "The Lost Boys" 'cause "I still BELIEVE".
It's pronounced "WALRUS PENIS"
* While we are on the subject of the name – what's the correct pronunciation and who came up with it?
Scott Waldrop: It's pronounced "WALRUS PENIS". Okay got that joke out of the way. The proper way to say our name is: "WALL PURRRR GUS" That's "Wall" as in "The Great Wall of China" or Pink Floyd's "The Wall" if you like. Then "purrrr" as in the sound a cat makes. And lastly "GUS" as a dude named Gus or "Gus G." if we want to get all Heavy Metal Nerdy about it.
* You guys are from North Carolina right? How's the metal scene down there? The Carolinas have a long history of producing great bands: COC, Confessor, Nile etc. Any idea on why the 2 states are so prolific considering you don't have the population numbers like say California, NY or Florida does?
Scott Waldrop: Yea I think it's because of the college scene down here. There's a huge art/music culture which has existed here for a long time. You have just in one small area some of The American South's top colleges clustered very close together in the Raleigh area. I'm talking about North Carolina State, Chapel Hill, Wake Forest, Duke. And then you also have a bunch of very old and venerable smaller colleges like Peace College, Meredith College and so on and so forth. There's a constant influx of intellectual people flowing in and out of the area so there's never been any shortage of clubs to play at or bands to play with. There's a special "energy" here that's very conducive to playing music. For instance, in downtown Raleigh there is one giant building that houses a club called The Maywood which is a great nightclub for metal/punk/indy bands. In the same building, there is a studio owned by Mike Dean from COC called "Volume 11" studios which is famous around here. Also, still in this same building – there is this massive labyrinth of rehearsal spaces so you can walk through there on any given night and like here like 20 bands rehearsing at once. COC and The Connells are in there sometimes. Also, downtown one of our main landmarks is an outdoor amphitheater you see as you drive through the city called The Red Hat. Slayer played outdoors there last week so all of Raleigh was being shook by "Angel of Death" ha ha. This amphitheater has a mosaic of a giant oak tree (our city's symbol) which softly changes color like one of those meditation salt rock lights (if you have any idea what the f**k I'm talking about by that). It's a very giant breathtaking art installation which really accentuates the city's skyline and I know it must be surreal for artists on stage to look out on this see of faces under this trippy flickering mural. I saw Blondie there while there was a full moon over the buildings, over the hue-shifting mural, and over the amphitheater full of faces dancing on grass. She commented on how magical our city is. I turned around to take stock of what she must have been taking in from the stage and I, "Yea our city is pretty damn awesome." Just within Raleigh, you have tons of clubs to play in like Slim's, King's, Deep South, The Pour House, Southland Ballroom, Berkley, Black Flower, The Lincoln Theater, The Ritz etc. etc. That's not even talking about Durham and Chapel Hill which as two close-by cities with lots of other clubs. So, yea, we have it good down here culturally as a place for musicians to fraternize. Also, you know – when you're talking about the music scene down here and you only mention metal, you're only "scraping the surface" of the actual music scene because Indy Rock, Indy Folk, & Punk down here are pretty much everything. There's a whole radio station devoted to it and of course the scenes cross-pollinate a lot. I think also it's slow-paced down here compared to DC or Atlanta.
In the Carolinas, we pretty much grow crops, go to college, brew craft beer, swim in the ocean and hike in the mountains. I'd say our state is a fairly "existentially aware" sort of place as the culturally there seems to be an emphasis on enjoying life and you know – not giving too much of as shit about what nightmares are transpiring in The White House. There is room to breathe here and really think about art and music. This wonderful state is a place people come to visit for Holidays to have fun. It's a major sports destination. It has the best beaches on the East Coast of North America and the most beautiful mountains (The Smokey Mountains) in the East – google photos of them, they are right out of a J.R.R. Tolkien story with their ever-rising mists. Our beaches are the cleanest, full of beautiful shells, ancient lighthouses, and boast most of the best surfing on the East Coast. To the west in Asheville you have some of the best mountain-loving hippy right wing liberal culture in the country. In the middle of the state, you have Charlotte and Raleigh which are major metropolitan hubs generating big income, sports, and influential people.
To the east you have a beach culture so distinct and desirable people come from all over this giant country and Canada just to spend a little time here. I think all the aforementioned is why you have such a perfect breeding ground for bands to be born out of. We live in a place that celebrates life and places value on the quality living and not necessarily "how much you can get done before you drop dead". I was born here in North Carolina so I have to give it a big "shout out" and I believe everything I just said despite my inherent predilection for this place. This is my home and I love it. Great things manifest here!
* Have you guys done much touring on this album yet? If so what has the response been so far?
Scott Waldrop: We haven't toured. The furthest this band has gone out of The Carolinas was Chicago for Ragnarökkr Metal Apocalypse and also back to Chicago this year when that fest became The Legions of Metal Fest. We're going to Ventura California this October for Frost and Fire III https://www.facebook.com/frostandfiremetalfest/ (Thanks Jarvis!). The response has been quite good from all the reviews I've read. Of course, there are bad reviews of our music because not everyone will like your music but I've never heard us be accused of be sloppy or uninspired on stage. I've got a great team and I practice guitar a lot to keep up with those dudes. It helps that Carlos has been touring with Weedeater too because when he comes home and we do local gigs, he's really in shape on the drums. People seem to consistently say the band is "tight" and that our enthusiastic energy is infectious on the crowd.
So, that's exactly what we set out to do in the very beginning back in 2012. I want people to watch Walpyrgus live and think, "These guys belong together, they look like a gang, you can tell they work towards a common goal, they have vision, they're a team, there are no weak links, no one looks like they wish they weren't on stage, etc. etc." Yea, I want you to think ALL that, ha ha ha. You know when you see a band and they're great but there's that one person that just looks like they don't quite belong and that the band had to "settle" on this individual as a bandmate? I want us to never have to be like that.
You know, there's always that opening band were each member looks like a very dedicated metalhead musician with sweeping chops and wild hair and all that… BUT they've got that one guy: a mediocre bassist who's "competent" but playing with a pick. He's wearing khaki Old Navy cargo shorts and some "regular person" T-shirt (maybe a well-worn white "Hard Rock Café" Las Vegas" shirt). We'd like to avoid that. It's painful for the audience to look at something like that. It's awkward for everyone involved.
In Walpyrgus as a rule, each member is integral to our live show. When we started this band one of the points was to be a great live band. When Peter left it was crushingly sad for us as I could not think of anyone that was worthy of replacing him down here – at least anyone that I knew personally already and trusted. There was only one guy I was willing to replace Peter with (and this was Peter's suggestion too) – Carlos Denogean from Salvación. The only problem was that Carlos lives 2.5 ours east on the ocean in Wilmington. Still, it was worth us to travel to have him to hold our integrity as powerhouse line-up. That's not to say he doesn't sacrifice to drive to us as well because he does and we much appreciate it. Carlos kept this band alive.
* What can we expect from Walpyrgus for the rest of the year?
Peter Lemieux: You can expect to see us in Ventura, California the weekend of Oct 6-8 at Frost and Fire III with tons of other great bands! (including Twisted Tower Dire featuring Jonny, Scott, AND Jim!!!)
Scott Waldrop: We've got a very cassette version of "Walpyrgus Nights" coming out. Watch for announcements on that if you're a tape person. I've got lots of new songs demoed. If Enrico at Cruz Del Sur wants another Walpyrgus album we're going to start putting it together. Jonny and Charley have young kids so that makes things trickier with timing things. I have a teenager, several other music projects, and a whole "career" (if you will), around my distance running & charity work so I need real momentum or enthusiasm for projects (running or music) to justify focusing my time on them. I spend so much time in the studio and out on trails training that budgeting my time & sleep while not letting my family life suffer, has become an obsessive science.
That said, I'm sitting back and watching how "Walpyrgus Nights" is being received throughout the year to gauge whether or not The Universe is pushing me in the direction of a second album or just allowing the legacy of this one great (in my opinion) set of songs to stay intact & unblemished. We know if we do a follow it cannot be half-hearted as we put what I would call an almost immeasurable amount of thought and energy into these songs. If we tried to rush a follow up without enough forethought I'm sure fans would notice and may be disappointed. So, as with everything – the future of the band is tentative but generally bright.
* Any final words?
Scott Waldrop: Yes, thank you so much for taking interest in us and letting us talk. Yes, as an end note to plug my charity – I'm an ambassador runner for The Herren Project. We raise money and awareness around mental illness and addiction which is born from it. We want to break the stigma society holds around these topics. It shouldn't be considered weak or embarrassing to ask for help when you or a loved one suffers from something like alcoholism.
No, this sort disease is not like cancer – it is psychological and we humans don't know much about our own brains. In cosmology we pontificate and hypothesize about the implications of dark energy yet we unable to quantify our own consciousness!? I believe these problems (mental illness & addiction) shouldn't be considered taboo and that people with mental illness need to be helped – not be made pariahs or unnecessarily incarcerated.
Obviously, drugs and alcohol effect many of us "music people" and for some of us the day comes when the party ends and we find ourselves alone in dark places. If you relate to this please check my page www.ultrarunvegan.com There is help. You can also connect with me personally on Instagram, Facebook, and Twitter at the handle @ultrarunvegan …As for WALPYRGUS, you can also connect w/ us with the handle @walpyrgus on FB & Twitter. Better yet – you can find links to all our social media, book us for shows, buy our merch, buy & listen to our music www.walpyrgus.com THANK YOU & GOOD BYE (FOR NOW)!