Today, American black metal cult Worm stream the entirety of their highly anticipated debut album, Evocation of the Black Marsh. Now set for international release on November 3rd via Iron Bonehead Productions, hear Worm's Evocation of the Black Marsh in its entirety HERE.
Hailing from the swampy recesses of Florida, Worm is the work of one mysterious Fantomslaughter. To date, he's done two rare demos, The Deep Dark Earth Underlines All (2014) and Nights in Hell (2016), but now as a duo alongside one Equimanthorn, Worm present the fullest distillation of their foul 'n' fetid aesthetic in Evocation of the Black Marsh.
Ever aptly titled, Evocation of the Black Marsh comprises eight hymns to the spiritual swamp lurking in every listener. With titles like "Evil in the Mire," "Altar of Black Sludge," and especially "The Slime Weeps" and "Swamp Ghoul," it would be fair to assume that Worm would worship at the altar of Varathron's classic His Majesty at the Swamp. However, while faint traces of those Greek gods can be detected, across the 42-minute LP is a clanging, blown-out appropriation of early Goatlord and Mortuary Drape, but strewn with a screws-loose personality that hails unorthodoxy endlessly. It's a harsh and unsettling listener, but done with the authenticity and purity of black metal's earliest, pre-tabloid days – and where else would something harsh and unsettling end but at the swamp?
Submerge into the slime and prepare for a true Evocation of the Black Marsh.
Cover and tracklisting are as follows: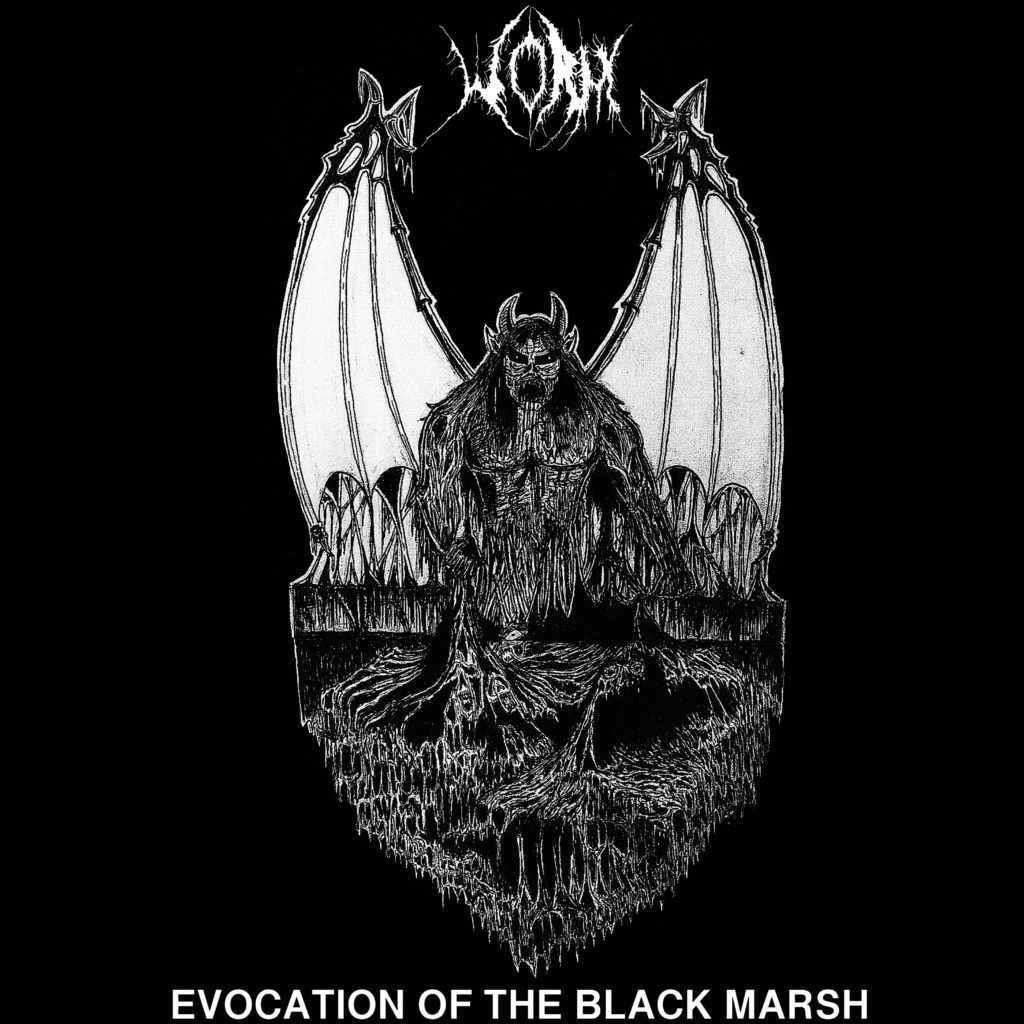 Tracklisting for Worm (USA)'s Evocation of the Black Marsh
1. Altar Of Black Sludge
2. Winged Beast Of The Phantom Crypt
3. Gravemouth
4. Evil In The Mire
5. Evocation Of The Black Marsh
6. Swamp Ghoul
7. Rotting Semblance
8. The Slime Weeps