Today, dark heavy metal band VENOMOUS MAXIMUS stream the entirety of their highly anticipated new album, No Warning. Recorded at Portland, Oregon's Falcon Studios and produced by Toxic Holocaust's Joel Grind (Sunn 0))), Midnight), the LP is the follow-up to the band's celebrated sophomore album, Firewalker, praised by Invisible Oranges as a record that "strikes the John Carpenter creepy-cool balance." Set for international release today via Shadow Kingdom Records, hear VENOMOUS MAXIMUS' No Warning in its entirety.

"'Our new LP, No Warning points a magnifying glass directly towards this band's biggest strengths," comments VENOMOUS MAXIMUS vocalist / guitarist Gregg Higgins. "The guts of these songs were formed during many weeks on the road with our friends in High on Fire and Pallbearer are a razor-sharp representation of what this band does best. Prepare for riff after riff on top of riffs."
The 2015 release of Firewalker thrust VENOMOUS MAXIMUS into the higher reaches of the international hard-and-heavy music scene. Upon its issue, the record was hailed as "music of contrasts and conflict" by the Houston Press, while MetalSucks proclaimed that the group rocked "like a super-metal David Bowie." NPR named the band as one of its artists to discover at SXSW, and the quartet followed the release of the LP with the aforementioned U.S. tour alongside High on Fire and Pallbearer.
Now, with No Warning, VENOMOUS MAXIMUS delivers an arsenal of the attributes that have earned the band three-peat title honors as Houston's Best Metal Band: heaving heaviness, uncanny catchiness, haunting melodicism, and red-blooded swagger. While some have looked to tag the band's high-powered sound as "occult rock," the album hosts a clutch of anthems that prove powerful songwriting wins out over stylistic classification every time. Two years in the making, No Warning is a fiery collection of songs that solidifies VENOMOUS MAXIMUS' place as pacesetters of today's heavy music landscape and the embodiment of American style doom rock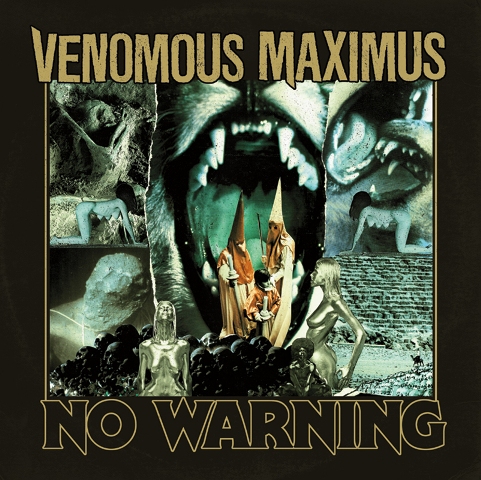 Tracklisting:
1.) I
2.) Spellbound
3.) Pray for Me
4.) Return of the Witch
5.) All of My Dreams
6.) II
7.) No Warning
8.) Blood for Blood
9.) Endless
10.) Sea of Sleep
In addition to Gregg Higgins, VENOMOUS MAXIMUS features Christian Larson (guitar),Trevi Biles (bass) and Bongo (drums).