NECROPHAGIA have announced a European tour in support of legendary MORBID ANGEL fronter David Vincent's I AM MORBID. The American cult death metal pioneers will embark on their hellish road-trip at the Rudeboy in Bielsko-Biala, Poland on May 17th and continue to celebrate their horror shows throughout seven more countries before a final curtain at the Hellraiser in Oberhausen, Germany on the 12th of June.
Killjoy comments: "Europe are you ready for some horror and gore? We are very excited to come back and spread the sickness with l AM MORBID!"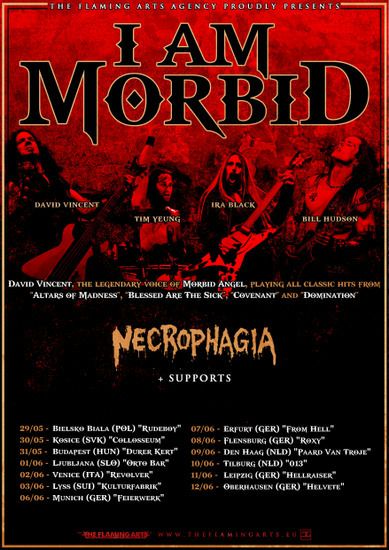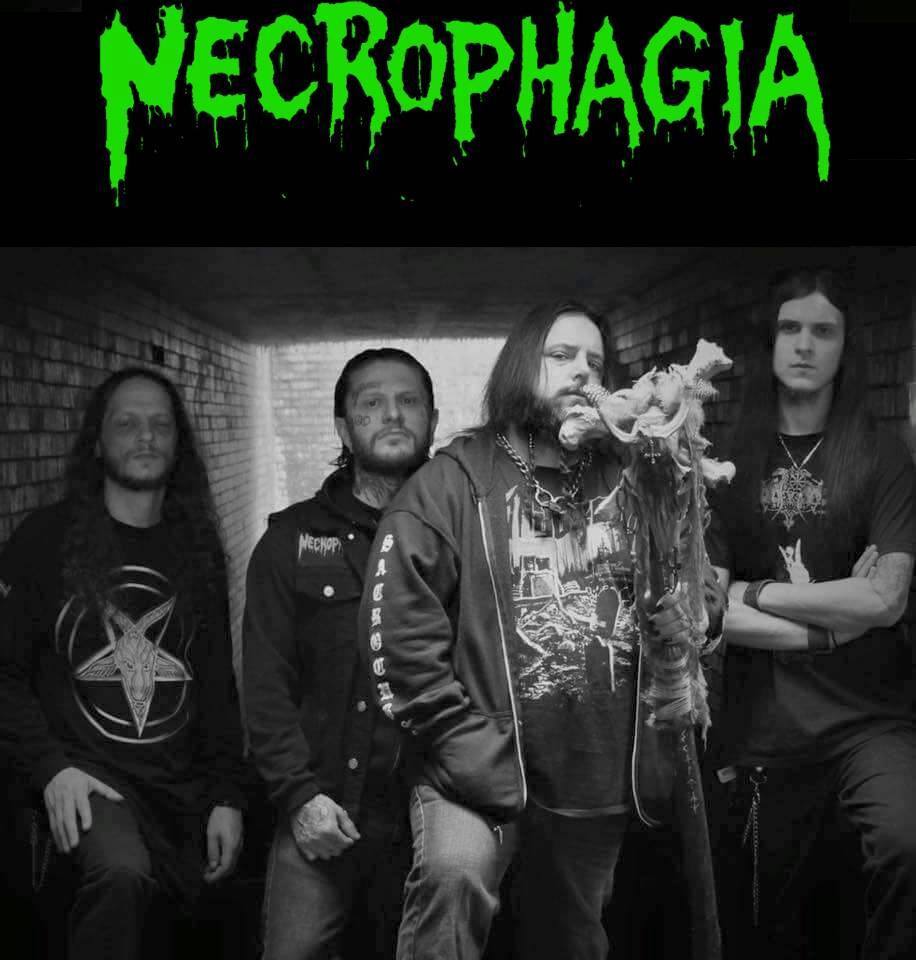 NECROPHAGIA will be touring in support of their latest masterpiece 'WhiteWorm Cathedral', which is fully streaming at the link below.
https://necrophagia.bandcamp.com/album/whiteworm-cathedral
Muahaha! NECROPHAGIA are back to haunt you! The masters of death metal horror invite you to bang to the Sabbath on a coffin night, when the evil priest and the rat witch raise the dead among us! Once again Killjoy DeSade has taken his time to compose and record 'WhiteWorm Cathedral', but the result was well worth the wait. NECROPHAGIA have generally taken another step back to a more straightforward approach. Although their latest full-length 'Deathtrip 69' (2011) was generally met with roaring applause, there has been some criticism levelled at the album. Killjoy DeSade seems to have drawn the same conclusions and reduced the atmospheric samples to the necessary, while focusing on songwriting and catchiness. Now NECROPHAGIA deliver more old school death metal with a blasphemous groove and killing hooks. The band was formed in late 1983 by the Godfather of Gore Metal, Killjoy and their debut recording 'Season of the Dead' was unleashed in February 1987. In the same year the Americans split despite their tremendous impact in the underground death metal scene, which they helped founding. In the middle of the 1990's horror fan Philip Anselmo (DOWN, ex-PANTERA) convinced Killjoy to resurrect NECROPHAGIA and joined for the next three releases including their second album 'Holocausto de la Morte' (1998). The band released two more albums including 'The Divine Art of Torture' (2003) and several EPs despite undergoing continued line-up changes. NECROPHAGIA's fourth full length 'Harvest Ritual Vol. 1' (2005) saw some experimentation, while their next eerie incarnation 'Deathtrip 69' featured more evil movie samples adding to the beloved vintage horror feeling. Yet the time has come to light those black candles, chant the incantations and watch the 'WhiteWorm Cathedral' rise! Amen, Brother Killjoy!
Line-up
Killjoy DeSade: vocals
Abigail Lee Nero: guitar
Scrimm: guitar
Damien Mathews: bass
Shawn Slusarek: drums
www.facebook.com/NecrophagiaOfficial/