SÓLSTAFIR have entered the album charts in several countries in the first week after 'Berdreyminn' was released worldwide on May 26th. It is actually hard to overstate the massive achievement of a band coming from a volcanic island close to the arctic circle in the North Atlantic midway between Europe and America that sings in Icelandic and that has evolved a highly original style of music very much their own. Excluding the multiple high scores in digital charts across all platforms worldwide and focusing on physical charts, these are the album's current results (with expected top positions from their native Iceland and other countries still missing):
Finland #20 National album charts
France #121 National charts
France #2 Metal charts
Germany #30 National album charts
Sweden #8 Vinyl charts
Sweden #18 Hardrock charts
Switzerland #42 National charts
UK #39 – Top 100 independent album chart
UK #24 – Top 40 rock/metal album chart
The cover art by Adam Burke and track-list of 'Berdreyminn' can be viewed below.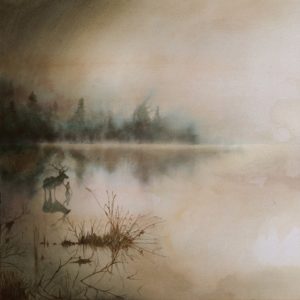 Track-list
1. Silfur-Refur (6:54)
2. Ísafold (4:59)
3. Hula (7:07)
4. Nárós (7:23)
5. Hvít Sæng (7:22)
6. Dýrafjörður (7:32)
7. Ambátt (8:08)
8. Bláfjall (8:00)
On previous news, SÓLSTAFIR have released their first video for a track taken from 'Berdreyminn'

Frontman Aðalbjörn Tryggvason commented on behalf of SÓLSTAFIR: "Videos have always been a medium that we are taking seriously. Therefore, we have worked with excellent visual artists like Bowen Staines and Vesa Ranta on previous clips. We are privileged to have been able to enlist the team of Nico Poalillo and Peter Beste to create the imagery for 'Silfur-Refur'. They have directed and produced a video that beautifully illustrates our song – at least in our minds. We are giving Nico and Peter our heartfelt thanks for their amazing contribution to our musical vision. The video's meaning is a puzzle, which we are leaving for you to solve as we don't want to spoil your imagination spinning stories of its own. We sincerely hope that you enjoy 'Silfur-Refur' as much as we do."
SÓLSTAFIR have previously announced their first European tour in support of their forthcoming full-length 'Beyrdreyminn' (out May 26th) in June.
The tour will kick off at the Download Festival in Paris on June 10th and afterwards the enigmatic Icelandic rockers will continue to perform in England, the Netherlands, Belgium, Germany, and France before a final show at the Spanish edition of Download in Madrid on the 24th of June.
SÓLSTAFIR commented on the tour: "We are stoked to be back on the road and doing up 'n close personal club shows between summer festivals. Some of the small venues are expected to sell out fast – so better get your ticket right away."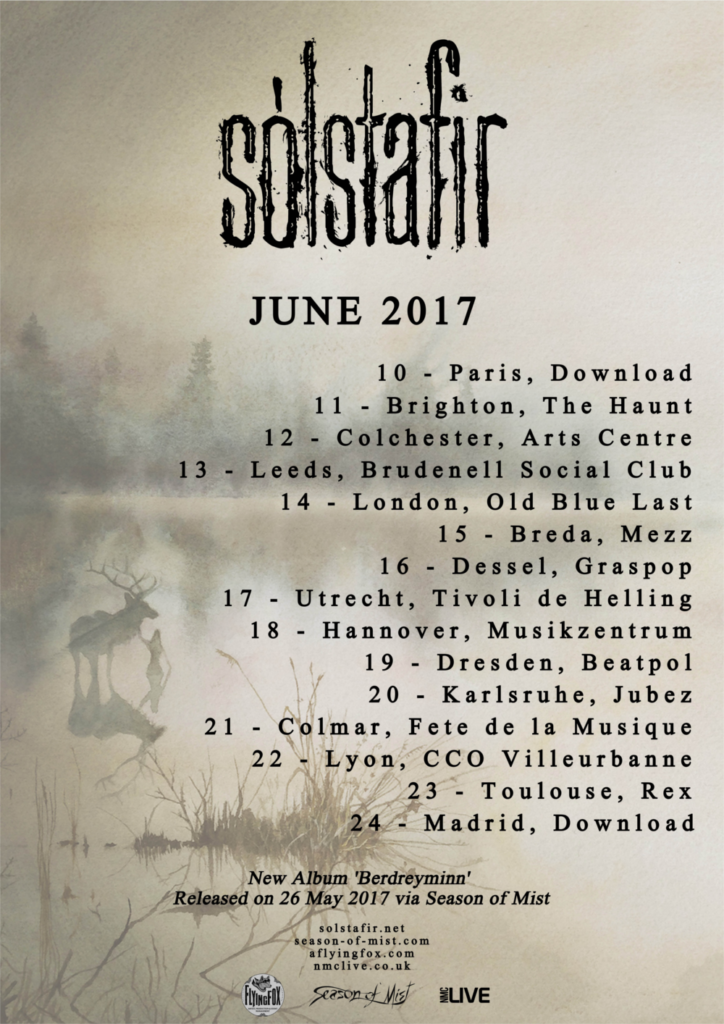 SÓLSTAFIR tour
10 Jun 17 Paris (FR) Download Festival
11 Jun 17 Brighton (UK) The Haunt
12 Jun 17 Colchester (UK) Arts Centre
13 Jun 17 Leeds (UK) Brudenell Social Club
14 Jun 17 London (UK) Old Blue Last (SOLD OUT!)
15 Jun 17 Breda (NL) Mezz
16 Jun 17 Dessel (BE) Graspop Metal Meeting
17 Jun 17 Utrecht (NL) Tivoli de Helling
18 Jun 17 Hannover (DE) Musikzentrum
19 Jun 17 Dresden (DE) Beatpol
20 Jun 17 Karlsruhe (DE) Jubez
21 Jun 17 Colmar (FR) Fete de la Musique
22 Jun 17 Lyon (FR) CCO Villeurbanne
23 Jun 17 Toulouse (FR) Rex
24 Jun 17 Madrid (ES) Download Festival
SÓLSTAFIR festivals
08 Jul 17 Neskaupstaður (IS) Eistnaflug Festival
28 Jul 17 Balve (DE) Balver Höhle (Prophecy Fest)
29 Jul 17 Neuensee bei Lichtenfels (DE) Rock im Wald
11 Aug 17 Rasnov (RO) Rockstadt Extreme Fest (exact date tba)
18 Aug 17 Borre (NO) Midgardsblot Festival (exact date tba)
Music will always be inspired by the environment in which it is created. With its incredible array of highly diverse landscapes ranging from white glaciers via volcanic bizarreness, moss-green bubble-fields, deep fjords, and frost-cracked mountains to black beaches, Iceland has shaped a host of astonishingly original and fiercely individual bands such as SIGUR RÓS, BJÖRK, and SÓLSTAFIR.
SÓLSTAFIR embody the ever-turning wheel of seasons with their shifting light, darkness, and colours, extreme Northern climate, the stark contrasts, the closeness of beauty and deadly forces of nature, the impressive sceneries that have the bones of ancient gods enshrined in them like hardly any other band in every aspect of their existence.
SÓLSTAFIR are not like any other band. Their latest album, 'Berdreyminn' underscores this statement. As its title "a dreamer of forthcoming events" aptly describes, the four Icelanders have taken their already impressive evolution one step further. The band has continued to amalgamate haunting melodies, psychedelic phases, as well as strong undercurrents of classic rock and hard rock with echoes of their metal past. Yet SÓLSTAFIR's focus is not on style but pure emotion. 'Berdreyminn' is eclectic by a conscious choice to make feelings audible and transform taste as well as texture to sound. Genre borders are not broken but simply ignored. Musical influences are gathered from a wide range of sources, re-arranged, and woven into new patterns. Melancholy, longing, anger, joy, pleasure, pain, and other emotions are fulling this album.
Despite leaning clearly towards an expression that can be described as rock today, SÓLSTAFIR have their roots in metal as their debut full-length 'Í Blóði og Anda' (2002), which translates as "In Blood and Spirit" still witnesses. Instead of today's Icelandic gravel throated siren chants, frontman Aðalbjörn Tryggvason spat forth vitriolic crusty vocals and all strings were forged with black metal. Already their next albums 'Masterpiece of Bitterness' (2005) and 'Köld' (2009) marked stations of a continuous evolution. SÓLSTAFIR went further along their solitary path and obviously left any categorising box with the ground-breaking follow-ups 'Svartir Sandar' (2011) and 'Ótta' (2014), which received high critical acclaim and attracted new fans in equal measure, while managing the difficult feat of keeping most of their earlier following too.
SÓLSTAFIR have set sails to new horizons with 'Berdreyminn'. Yet the Icelanders brought their home with them and the silhouette of their vessels remains easily recognisable. Welcome aboard on a new adventurous musical journey into uncharted territories.
Line-up
Aðalbjörn Tryggvason: guitar, vocals
Svavar Austmann: bass
Sæþór Maríus Sæþórsson: guitar
Hallgrímur Jón Hallgrímsson: drums, backing vocals